Probiotics have become a hot topic of conversation in recent times, and the market is flooded with an overwhelming variety of options. Amidst this profusion of probiotic supplements, Bio X4 stands out as one that touts its ability to aid in weight loss by regulating appetite, curbing food cravings, optimizing digestion, and bolstering metabolism.
But, does Bio X4 truly live up to its promises? In this article, we delve into the scientific research behind the components of Bio X4 to assess the validity of these claims. Through this examination, we hope to provide you with a comprehensive understanding of the effectiveness of this probiotic supplement.
What are Probiotics?
Probiotics, the living microorganisms or bacteria, have been gaining popularity due to their potential health benefits. These microscopic creatures are believed to provide various therapeutic effects, particularly in treating intestinal disorders like irritable bowel syndrome (IBS) and lactose intolerance. Not only that, but probiotics have also been found to positively impact blood pressure and cholesterol levels, according to several studies.
The human intestine is home to trillions of live bacteria, collectively known as the gut microbiota. The maintenance of a natural balance between "good" and "bad" bacteria within the gut microbiota is crucial in preventing various illnesses. Probiotics are believed to have a significant role in maintaining and restoring this balance.
One such product, Bio X4 by Nucific, claims that its blend of probiotics can combat the "bad" bacteria responsible for digestive problems and sugar, carbohydrate, and unhealthy food cravings. In conclusion, probiotics are an interesting area of research with promising potential for improving health outcomes.
What is Bio X4 from Nucific?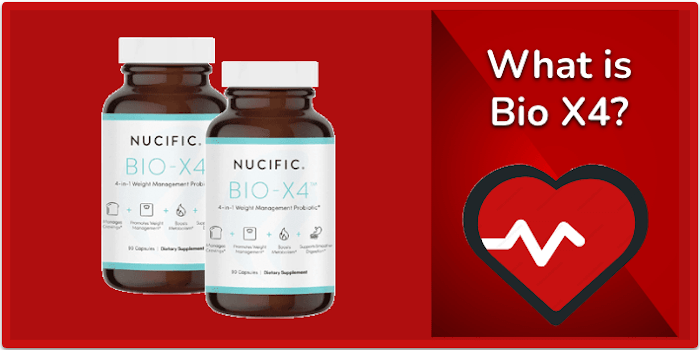 Bio X4 is a weight loss supplement that belongs to the line of nutritional supplements produced by Nucific, a California-based company. Nucific prides itself on creating supplements that are all-natural and free from artificial additives, preservatives, and fillers.
Dr. Amy Lee, a board-certified bariatric physician in internal medicine, is the mastermind behind Bio X4. She designed this probiotic supplement to aid people in their weight loss efforts while also promoting long-term lifestyle and dietary changes.
Bio X4 is made up of a unique blend of ingredients, which Nucific claims can:
Suppress appetite and control food cravings
Increase metabolism and accelerate fat-burning
Improve digestion and reduce symptoms such as bloating and gas
To achieve these results, Nucific recommends taking one capsule of Bio X4 with each meal (three times a day). However, users have the option of taking up to two capsules per meal.
Bio X4 can be purchased directly from Nucific's website, with a 30-day supply of 90 capsules costing $99. The company also offers a 90-day money-back guarantee on the product.
In addition to purchasing Bio X4 from Nucific's website, it is also available on Amazon and eBay. With Bio X4's unique blend of natural ingredients, it could be worth considering as part of your weight loss journey.
Discount Code and Voucher for Bio X4
At present, we receive a multitude of inquiries on a daily basis regarding ways to save money through discounts or vouchers. Thus, we have taken the initiative to sift through and present to you the best offer available for Bio X4 exclusively for our readers. Please note that such offers have a limited timeframe and can only be redeemed via the link below. This particular offer will expire on 4. June 2023, so act quickly to take advantage of it.
MEGA-DISCOUNT-ACTION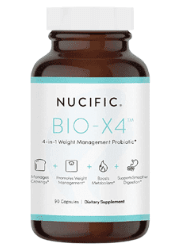 Improve digestion
Increase metabolism and facilitate fat burning
Manage food cravings and decrease hunger
No side effects
Rating: ⭐⭐⭐⭐⭐
👉 CLICK HERE to secure the BEST offer! 👈
You receive this offer exklusively only about us and is only valid until 4. June 2023
Bio X4 Ingredients
The ingredients in Bio X4 are divided into four blends: Weight Management Blend, Probiotic Blend, Digestive Enzyme Blend and Craving Control Blend.
The Probiotic Blend contains five strains of probiotics, including Lactobacillus acidophilus, Lactobacillus rhamnosus, Lactobacillus plantarum, Bifidobacterium lactis, and Bifidobacterium animalis. However, research on the impact of probiotics on weight loss is limited and contradictory.
While some studies show that certain probiotic strains, such as lactobacillus rhamnosus and bifidobacterium lactis, can aid in weight loss when used with a calorie-restricted diet, others suggest that certain strains, such as lactobacillus rhamnosus and lactobacillus acidophilus, may even cause weight gain if not combined with a low-calorie diet.
Therefore, it is unclear which strains of probiotics are most effective for weight loss.
The Digestive Enzyme Blend includes amylase, bromelain, and lipase, while the Weight Management Blend contains EGCG green tea extract, and the Craving Control Blend contains Caralluma fimbriata extract.
The Digestive Enzyme Blend in Bio X4 consists of three enzymes: amylase, lipase, and bromelain. Enzymes are proteins that help speed up chemical reactions in the body. These particular enzymes are naturally produced in the human digestive system, and are responsible for breaking down sugars, fats, and proteins.
However, in cases of pancreatic insufficiency or other conditions where the body does not produce enough digestive enzymes, individuals may experience uncomfortable gastrointestinal symptoms such as bloating and diarrhea. In these cases, enzyme medications may be prescribed. These medications usually have a special coating to ensure that the enzymes survive the acidic conditions of the stomach and are effective in aiding the digestive process.
Bio X4's Weight Management Blend contains epigallocatechin-3-gallate (EGCG), an antioxidant compound found naturally in green tea. It is believed that EGCG can enhance the body's ability to burn fat, which is why it is included in Bio X4.
While some animal studies have shown that EGCG can prevent obesity, a recent review of the research suggests that the effect of green tea extract on fat loss is inconsistent and there aren't enough high-quality human studies to make a definitive conclusion about its weight loss effects.
In fact, another review of the existing evidence from human trials found no clinically or statistically significant weight loss benefits from consuming green tea. Therefore, it's unclear whether EGCG in Bio X4 can actually aid in weight loss in humans.
What is the feedback from customers on Nucific Bio X4?
Nucific Bio X4 is a popular dietary supplement that is designed to support weight loss, digestion, and overall gut health. Many customers have reported positive experiences after taking this supplement, including increased energy levels, decreased food cravings, and improved digestive function. Here are three reviews from people who have tried Nucific Bio X4 and seen great results.
As someone who struggles with food cravings, Nucific Bio X4 has been a game-changer for me. It really helps to curb my appetite and keep me feeling satisfied throughout the day. Plus, the probiotics have helped improve my overall gut health.

Tina Frank
I've been taking Bio X4 for a few months now and I'm amazed at how much better I feel. Not only have I lost weight and improved my digestion, but my energy levels have skyrocketed. I feel like a completely new person!
4

Brian Miller
I was skeptical about trying Bio X4 at first, but I'm so glad I did. I've noticed a significant improvement in my digestion and I no longer experience bloating or discomfort after meals. I also love that it's made with all-natural ingredients and doesn't leave me feeling jittery like other supplements I've tried.
5
Bio X4 Usage Guide
Looking to get the most out of your Bio X4 probiotics? Follow these simple usage instructions for optimum gut health.
To start, take just one Bio X4 capsule with each meal. Whether you're having breakfast, lunch, or dinner, simply swallow one pill with your food. If you prefer, you can take two capsules per meal instead. But be careful not to exceed six capsules in a 24-hour period.
Remember, it's always a good idea to talk to your healthcare provider before starting any new supplement regimen. They can help you determine the right dose for your individual needs and ensure that Bio X4 is a safe and effective addition to your diet.
If you accidentally miss a dose or even an entire day, don't worry! Simply resume your regular schedule the next morning. However, try your best not to skip any doses, as your body needs a consistent level of enzymes and probiotics to achieve optimal gut health.
One more thing to keep in mind: Bio X4 capsules come in a high-quality glass jar to keep them fresh. The amber-colored glass helps protect the tablets from light exposure, so there's no need to refrigerate the bottle.
By following these easy instructions, you can make the most of your Bio X4 probiotics and support your digestive health.
Bio X4 Refund Policy & Price
Nucific is committed to providing excellent customer service, which includes a 90-day refund policy for all their products, including BIO X4 supplement. If for any reason you are not satisfied with your purchase, you can initiate the refund process by contacting Nucific's customer service team at 888-679-5520 or [email protected]. Simply return the unused portion of the supplement to the company, and they will process your refund promptly.
Nucific, the company behind the BIO X4 dietary supplement, offers a range of pricing options to suit your needs. You can purchase a single bottle of the supplement for $99, which will last you for a month. However, if you want to stock up, you can opt for the 3-bottle package for $261.36, which is $87.12 per bottle, or the 6-bottle package for $487.08, which is $81.18 per bottle. And if you order more than $50, you will get free shipping on the official website.
Potential Side Effects of Bio X4 Probiotics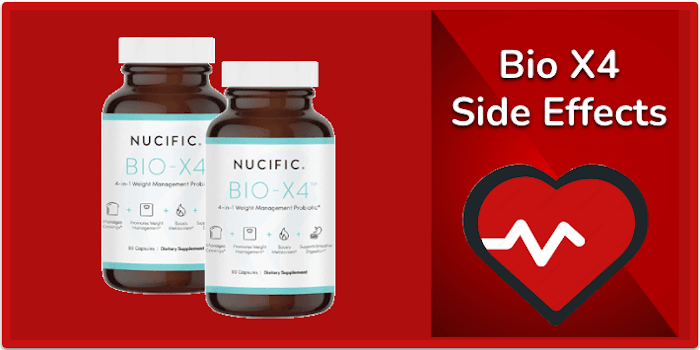 Bio X4 is a dietary supplement that contains probiotics and other ingredients, which are generally safe and well-tolerated by most healthy individuals.
While some people may experience mild side effects, such as bloating or flatulence, these are often the same symptoms that Bio X4 aims to alleviate.
However, individuals with certain medical conditions, such as short bowel syndrome or immunodeficiency, may be at higher risk of developing more serious complications, including infections.
Fortunately, the additional ingredients in Bio X4, such as Caralluma fimbriata and EGCG, have been shown to have minimal and short-lived side effects in clinical trials.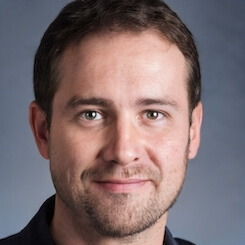 Paul Lendner ist ein praktizierender Experte im Bereich Gesundheit, Medizin und Fitness. Er schreibt bereits seit über 5 Jahren für das Managed Care Mag. Mit seinen Artikeln, die einen einzigartigen Expertenstatus nachweisen, liefert er unseren Lesern nicht nur Mehrwert, sondern auch Hilfestellung bei ihren Problemen.