Proceedings of the 12th Annual Symposium for Managed Care Professionals
KEYNOTE
Health Status, Health Maintenance, and Health Care in the 21st Century

Louis Sullivan, M.D.
President, Morehouse School of Medicine;
Secretary, U.S. Department of Health and Human Services, 1989–1993
PANEL DISCUSSION
Health Care Reform: Payor, Provider, Patient
PANEL DISCUSSION
Health Care Reform: The Consumer's Viewpoint
KEYNOTE
Changing the Public's Image of Managed Care

Nancy Wilson Dickey, M.D.
Immediate Past President and member, executive committee, AMA
PANEL DISCUSSION
Treating Diseases and Managing Cost
MOTIVATIONAL PRESENTATION
The Power of Perspective

John Cassis
President, the Cassis Group
---
The 12th Annual Symposium for Managed Care Professionals was held November 11–13, 1999 in Scottsdale, Arizona, and was sponsored by AstraZeneca.
The opinions expressed in this special supplement are those of the symposium participants, and do not necessarily reflect the views of the sponsor or the publisher, editor, or editorial board of Managed Care.
PHOTOGRAPHS BY DENNY COLLINS
---
Old Saying Appropriate For Current Environment
DAVID BRENNAN
Senior Vice President, Commercialization and Portfolio Management, AstraZeneca Pharmaceuticals
There is an expression often called "the curse," attributed to the Chinese by most people, that goes, "May you live in interesting times." And given the current state of affairs in managed care, to describe these times as merely interesting is to put it much too mildly — even after making allowances for the ironic intent of the statement.
No matter how you describe it, managed care today is a topic of continuing debate across our country.
Our aim in presenting "Payor, Provider, Patient: Healthcare by Consensus" was to contribute constructively to the dialogue by helping to shed new light on the issues, and by seeking new perspectives and ideas from everyone who attended this symposium. Our panel of speakers inspired thoughts and stirred lively discussion.
We wanted to explore the growing influence of the patient in health care decisions, and the collateral rise of the standards of accountability that providers can expect to face for their decisions — as well as the health care outcomes that result.
We examined the issues of privacy, medical records, and how new technologies will enable individualized treatment of patients. Our panelists discussed the growing responsibilities patients may face that comes with increased decision-making power. And what the cost implications are for all of this.
Thank you for your interest.
---
SPECIAL KEYNOTE
Health Status, Health Maintenance, and Health Care In the 21st Century
Louis W. Sullivan, M.D.
Louis W. Sullivan, M.D.: "We must lose ourselves in selfless devotion to our communities, in fashioning answers to the challenges of improving health status."
---
Louis Sullivan, M.D., is president of Morehouse School of Medicine in Atlanta. An internist by training, he served as secretary of health and human services during the Bush administration.
Sullivan came to Morehouse after leaving Washington in 1993. At a point in his career when he easily could have retired comfortably, Sullivan decided to return to the state where he grew up in poverty, where he had known the disadvantages that come from being in a group that does not get routine health care services. He made a commitment to himself to spend the remainder of his career trying to help eliminate the kind of suffering he and his family experienced in his early years. He spoke about how to achieve health system reform and improve Americans' health status.
---
There was a tremendous amount of interest in health issues in 1993 and 1994, but then interest tailed off. Now that interest is back. Those within the health system have decided we need discussion, so we can understand the forces that shape our world, so we can preserve the best of our system while addressing its deficiencies.
The top causes of death of Americans today include heart disease, cancer, stroke, kidney disease, liver disease, injuries, diabetes, and AIDS. While most may be biological, they are heavily influenced by environmental factors and individual behavior.
Heart disease is influenced by whether you're overweight. Whether you exercise. Whether you take your blood pressure medication if you have hypertension. The amount of fat in your diet. Many studies show that people who exercise regularly not only have lower instance of heart attacks, they actually live longer. I could take the next hour going through every one of the top 10 causes of death and show how the health behavior of the individual influences how his biology is expressed.
The U.S. Public Health Service estimates that if we could improve health behavior around the top 10 causes of death, we could reduce premature death a minimum of 40 percent. We could possibly reduce this by as much as 70 percent if more people exercise, lower the fat in their diets, and adhere to blood pressure medications. The marvelous therapies we have are not helpful if patients don't comply.
The Public Health Service estimates also that we could reduce acute disabilities in our society by as much as a third if we improve our health behavior. And chronic disabilities could be reduced by as much as an astonishing two thirds.
Healthy People 2000
That's why we've focused so much attention in recent years on disease prevention. Healthy People 2000, which we released in 1990, saw the participation of all state and territorial health commissioners; private health organizations, such as the American Heart Association, American Cancer Society, American Dietetic Association, Red Cross, AMA, many community groups, and others. Healthy People 2000 was a blueprint for improving the health status of our citizens.
Three years in the making, this emphasized the role of behavior in influencing health status. There were 298 specific goals we hoped to reach by 2000. We felt if we focused on education, we could reach these goals. There were such goals as reducing tobacco use; though we have made significant progress, one quarter of our citizens still use this product — even though we now know much more about its effects than we did some 30 years ago. Other goals included reducing the incidence of obesity. Infant mortality, too — we rank around 21st or 22nd among Western nations. There were goals for reducing deaths from stroke, kidney failure, diabetes.
A report in the Journal of the American Medical Association in 1995 by Drs. Michael McGuiness and Philip Lee of the U.S. Public Health Service gave us [an update] on how we were doing. That report showed improvement among many of our goals. We increased childhood immunizations, from 70 percent of children between the ages of 2 and 5 in 1990 to nearly 85 percent today. First-trimester prenatal care occurred more frequently and infant mortality was declining. So in these and other goals we were making substantial progress.
But among others, we'd made less progress — and in some, such as adult obesity and teenage smoking, we actually lost ground. Recent reports show the highest incidence of obesity in the U.S. since we began recording such data. And while in most American groups smoking is declining, it is increasing among 15- to 25-year-olds.
Health status has a direct correlation with educational and economic status. The fitness movement is a middle class movement; poor people have not embraced this as they should. If you are a high-school dropout, your chances of being a smoker are 39 percent, whereas among college graduates, around 12 percent smoke.
The greater your educational obtainment, the greater your ability to act on health information. So as we work to improve health, we must find better ways to reach those who are not as effective in improving their own behavior.
We need to understand how much of the cost of health care is due to preventable illness and injury, so we can redouble our efforts to avoid needless suffering and to reduce health care expenditures. I believe our present federal expenditure of $5 billion for prevention and public health — less than 1 percent of our nation's annual health expenditures — should be increased to $50 billion. Such an investment would result in substantial avoidance of preventable illness and injury, and in even greater dollar savings [than the expenditure alone].
Coverage proposals
In addition to improving behavior, and with the dollars saved as a result, we must find ways to provide insurance to the 44 million Americans who do not have it.
What could such a proposal for reforming the nation's health system look like? Various approaches are possible — and you will hear about them in the coming months from all corners — but all should mind overall costs and provide a sense of equity. Poor and middle-income families without insurance could be helped by a plan with the following elements, which we proposed some years ago:
A transferable voucher that would be available for families earning up to 150 percent of poverty. This would be used to purchase a basic insurance package.
A tax credit for middle-income families, to help them buy private insurance.
Full tax deductibility of premiums for self-employed individuals. We now have inequity — if you work for a large corporation and your insurance is provided, it's a tax-free benefit, but if you're self-employed, you get no such benefit.
An analysis by our health policy team in '92 suggested that the number of uninsured, once such a program were in place, would be reduced from 37 million at the time to fewer than 5 million. Obviously, many variations will be proposed, analyzed, and debated in the coming months. Any should adhere to the following principles:
An open dialog among all stakeholders. A fundamental mistake by the Clinton administration in 1993 was to appoint a team of several hundred individuals and attempt to hold their work secret, generating mistrust and suspicion from the beginning. In separate speeches, [some members of the team accused] various elements in the health system — physicians, pharmaceutical companies, hospitals, insurance companies — of self interest. And you the know the result: Those stakeholders were mobilized to fight the president's effort.
Preservation of our nation's public/private mix of health insurance. We have a flexible system that has brought us many benefits.
Individual responsibility for health and disease prevention.
The road ahead
[To achieve health care reform and improvements in health status,] we must undertake a broad, open, intensive, sustained educational effort for all stakeholders — citizens, patients, employers, employees, business, labor, opinion leaders, political leaders, and government officials at all levels. This effort must include those within the health care system — providers, educators, researchers, administrators.
We must heighten awareness of the tremendous improvements in health status in the 20th century. We should also hold out the promise of even greater health improvements to be gained from strengthening our public health system and continuing our investment in biomedical, clinical, and outcomes research; we can apply [this knowledge] to improving health status and behavior. The many direct and indirect benefits from improved health status — including decreased per-capita expenditures for acute health care — should be articulated.
There would be less family disruption, pain, and suffering. There would be increased productivity, with more efficient generation of goods, services, and wealth, and tax revenues from a healthier population, plus decreased social welfare costs.
What is required is broad cultural change, in which everyone is vested and everyone has a role to play. Health status must become everybody's business. Increasingly, consumers demand to participate in decision making. Health must be as much of a public interest as our economy. The benefits must be obvious to everyone.
Where there's room for progress
Personal behavior goals in Healthy People 2000 that fell short
Proportion of adult population
* Baseline*
* Last year measured*
* Healthy People 2000 goal
* Baseline years and last years for which data are available vary by goal.
SOURCE: U.S. CENTERS FOR DISEASE CONTROL, ATLANTA, 1999
---
How to encourage behavior modification
From the Q&A session following Sullivan's speech:
Q: You mentioned the relationship between health behavior and some of the trouble we're running into nationally. How can we begin to make individuals feel more empowered to make some fairly difficult behavior changes?
A: One area of increased investment at the National Institutes of Health is in understanding human behavior. One problem is that we don't really have mechanisms to reach segments of our population, notably adolescents, very effectively. We think for that reason, adolescents are smoking more. We have to find ways of reaching adolescents on their terms.
A few days ago, I was at program where two African-American physicians in Brooklyn with an adolescent population showed how they developed health-education programs with rap music. One of the physicians has a large asthma population, and pointed out that among adolescents, use of inhalers is not considered cool. What he's done is put his therapeutic message on rap records. And he's shown that the health status of his patients increased 28 percent after they were exposed to this music. So this is at least a way to get a message through that wasn't [communicated] in other ways.
We learned some years ago that a one-time message is not sufficient; health education has to be repetitive, and it has to come from different venues. It also has to be delivered by a credible messenger, so many health education programs will involve community organizations and not simply physicians. Pharmacists are a great source of health information for some patients.
We have to use credible messengers, so for a number of health education programs, community organizations do them rather than physicians. In some instances, the gap between the physician and the person you are trying to reach may be such that the communication is not effective.
The immediate benefits from the change in behavior have to be made obvious. One problem is that we're often talking about something 5, 10, 20 years down the road; that's one challenge when we work with young people. We see that in retirement programs. At my institution — and this is typical — we have to convince young employees to sign up for the retirement program. They want to take that money and do something else with it, because that retirement is "never going to come." It's the same with teenagers who smoke. To say that at age at 50 or 60 they may get cancer, well, that might as well as be 500 years from now.
---
PANEL DISCUSSION
Health Care Reform: Payors, Providers, and Patients
The end point of reform may be physicians and patients gaining some power at payors' expense. But for patients, a place at the table requires greater self-responsibility.
---
THE FACULTY
Philip R. Boulter, M.D., Senior Vice President and Chief Medical Officer, Tufts Health Plan
John K. Gorman, President, Managed Care Compliance Solutions
William F. Jessee, M.D., President and CEO, Medical Group Management Association
Stephen N. Lamb, J.D., Vice President, Public Policy, National Committee for Quality Assurance 

 (Since participating in this panel discussion, Stephen Lamb has left NCQA for a position with a Washington, D.C., law firm.)

Barrett A. Toan, M.B.A., President and CEO, Express Scripts/ValueRx
MODERATOR
Glenna M. Crooks, Ph.D., President, Strategic Health Policy Inc.
---
From left: Barrett A. Toan, M.B.A.; John K. Gorman; Stephen N. Lamb, J.D.; William F. Jesse, M.D.; and Phillip R. Boulter, M.D.
---
GLENNA CROOKS, PH.D.: Barrett, health care is moving fast. Tell me how fast it's moved for you.
BARRETT TOAN, M.B.A.: New drugs are coming out, whether for flu or new molecules in development. The mergers of large pharmaceutical manufacturers. The implosion of health care on Wall Street. If you look at the money coming out of health care right now, it's frightening. The market is not backing health care, except for pharma. All those things have an impact on us.
CROOKS: John, from your perspective of being in Washington, where do you see this heading, and what are you doing to help managed care in that regard?
JOHN GORMAN: The challenges for the managed care industry and for providers are unprecedented. We're in the midst of increased accountability and regulation, to give consumers assurances that health care is not compromised by profit motives. The problem is that Congress is engaged in a love-hate relationship with the industry. It realizes that managed care is the only real savior of Medicare, Medicaid, and probably, coverage in the commercial sector. But it doesn't trust this industry to do what it's supposed to do, unless it is regulated aggressively. We help plans negotiate pressures on the way they do business. Everybody talks about the United HealthCare announcement, but a lot of us in D.C. think this was a nonevent. They are not giving up much; they were only saying "No" about 1 percent of the time. The timing of it was an absolute master stroke. But United only gave up one of five or six methods to control physician behavior and costs. Precertification is just one prong of the strategy, and I think we're going to see health plans look at the others — retrospective review, contracting strategies, and things of that sort.
CROOKS: Well, Steve, you live in that epicenter, Washington. Comment on what the United announcement means in terms of quality imperatives.
STEPHEN LAMB, J.D.: I'm going to take on John on a couple of issues. I don't think you're going to see unprecedented regulation. The government has a long history of regulating health plans. On the purchasing side, the government is a mess. The Medicare HMO program was supposed to grow by this time, but 1999 will probably be one of the worst years ever for the program. The Health Care Financing Administration initiated its own quality-improvement program, making a deliberate decision: "We're going to part ways with the private sector." They chose not to coordinate with NCQA, the Joint Commission, and others. The result was a mess. The program is regarded by most folks as absurd. It is now where Congress, plans, and everyone says, "Why didn't they coordinate with the private sector from the start?"
CROOKS: Bill, comment on any of the provocative notions that you've just heard.
WILLIAM JESSEE, M.D.: Well, as usual, those inside the Beltway live in a special world, completely out of touch with the real world. John, your comment about Congress and the administration being enamored of managed care — well, of course they are. It's the only alternative they have ever seen to the fee-for-service model. We've got a political problem: Everybody paints the industry with a broad brush. And managed care is very diverse. But the managed care industry forgot that old maxim: Absolute power corrupts. We've seen plans [that think they] can control physician behavior. Plans can't, and they are finally starting to recognize that. The United decision — give me a break! They tested it in one or two markets and found it didn't cost any money. I give Lee Newcomer credit for probably one of the most brilliant activities ever in the managed care industry. But it recognizes that managed care really worked well in group and staff models. We tried to roll that out to the network model, and it was a totally different kettle of fish. A lot of health plans talk about free enterprise, and then operate like a Soviet collective. It doesn't work. And for the poor physician who participates in multiple plans, he's trying to provide services to 12 different Soviet collectives with 12 different sets of rules with a central commanding control structure. No wonder it's not working. Inside the Beltway, people need to look at why managed care is in dire straits, rather than put new regulations in place. I think we're in a time where there's going to be new opportunity for innovation. The smart plans are going to ask, "How can we align the plan, physicians, and patients?" One way to do that is to offer financial incentives to patients for healthy behaviors, but that's not cost-effective if you know they are going to rotate out of your plan next year. So, do we want free choice of plans from year to year, or do we want incentives for behavior? That's a tradeoff that public policy will have to debate.
CROOKS: Phil, you have to make that happen in the context of everything that has been talked about so far and a whole lot of things that we haven't.
PHILIP BOULTER, M.D.: Before I went to the "dark side of the force" — managed care — I spent 25 years in group practice. I agree with Bill's comments that it's difficult in a million-member IPA model, with its myriad holy and unholy relationships, to affect physician behavior. One challenge is to understand that there has been a fundamental change in society. Managed care really began in the early '70's as a choice for people who wanted something different. Now, there is no choice — you have managed care plans, and that is the way health care is delivered. Physicians and health systems have to play in what has become a capitalistic game, and hopefully, improve quality. But employers have absolutely zero interest in quality. It's very disturbing that in New England, they're uninterested in whether you're NCQA-accredited — all they want to know is what is the plan costs. I would add one more challenge: The implications of the Balanced Budget Act are astonishing, and they will drive managed care to whatever its end game will be. I think we probably don't have more than one to two years to get to that end.
JESSEE: I have a great deal of respect for what NCQA has accomplished, because putting some infrastructure and comparative measurements in place was a great step forward. But in reality, people don't pay attention to whether a health plan is accredited. The best line was from a medical director for a small health plan, who said in his market, NCQA stands for "Nobody Cares. Quit Asking."
TOAN: I understand the economics of [United's decision], allowing physicians to not have to call for authorizations. But I think you cannot underestimate the political impact within the health care system of conceding that physicians are correct all the time.
LAMB: Is that what they're doing?
TOAN: That is what will happen within a system. We manage United's pharmacy benefit. The day after that announcement, our phones lit up. Why? "I no longer have to have my drug prior authorized." That's what the patient understood. Now, United may not have meant that, but that's what the patient heard. When you're managing a health plan, you've got to manage the behaviors and expectations of patients, physicians, and employers. I think you underestimate [how] hard it will be to change the equation by which we've worked for the last 10 years.
LAMB: The inherent danger in the public expectation, "Your doctor is always right and practices medicine correctly 100 percent of the time," is that by United's own data, only 60 percent of physicians give beta blockers after heart attacks. This flies in the face of all of the quality metrics NCQA pushes. It's a stroke of genius for building trust, but it doesn't build a case for quality care.
JESSEE: I think the industry must get out of the mind-set I just heard again — that it can manage physician and patient behavior. You can't do it, particularly when the average physician is in 12 different health plans. Twelve people are trying to manage them 12 different ways. If you can create a delivery system where there are incentives for patients and physicians to do the right things, and the plan's role becomes one of giving them tools to do that, that's a totally different mind-set.
BOULTER: What has to come out of this, still, is accountability for decisions physicians make. What worries me is that there will be a view among physicians that they've won. They won't have to call the 800 number, but they still are going to be accountable for their performance.
LAMB: Our notion of quality and accountability is going to be redefined over the next couple of years, with the upswing in the premium cycle. Quality didn't differentiate plans when prices were stable, and I think that has a lot to do with Bill's point, that docs are in multiple networks.
---
Toan: The network model is fatally flawed, and something has to change to fix it. One physician I know is in 23 health plans, and he asks a valid question: Why are there 23 sets of rules for how I get a woman admitted for a hysterectomy?
---
TOAN: The network model is fatally flawed and something has to change to fix it. One [physician I know] is in 23 plans, and he asked a very valid question: Why are there 23 different sets of rules for how I get a woman admitted for a hysterectomy? Shouldn't the science be the same, regardless of health plan? Plans ought to compete on customer service or price. If we're going to keep networks, we're going to have to find consistency in the medical model, so it doesn't matter which plan you're in as to what the rules are for a hysterectomy.
BOULTER: The chief medical officers of competing plans in Massachusetts two years ago formed their own independent company. By doing this, they were able to do things like common credentialing forms, common preventive guidelines, common disease management guidelines — all things that make life for physicians easier but offer no competitive advantages for health plans and are costly. That brings up collaboration. Finally, we're moving to collaboration with public health to get health plans to deal with the fundamentals — obesity, smoking, these things. Single health plans cannot deal with that.
CROOKS: [Takes a question from the audience.]
QUESTION: Between public perception issues, the threat of class-action lawsuits, the United decision, and the fact that medical groups are going bankrupt because the prices have already been driven so low, managed care has lost most of its fundamental tools. What is the "end game?" And are employers and the government going to tolerate [resultant] 15-percent increases again?
GORMAN: What struck me when I heard Dr. Sullivan speak was that public health is an incredibly important part of our health system. It used to be what the system was all about. After World War II, we entered a period of what I call private health — we now take care of individuals' diseases, rather than eradicate epidemic-type things. But to have private health, it has to be in the context of public health. I think where we're heading is personal health, which has very little to do with public at all, and a system where patients will be given money and left to figure it out, because the system will be unable to agree how to provide health care collectively. That will change their behavior, and it will change the doctors' behavior, because if the person writes a check to the doctor, he'll be more aware of what they're getting.
LAMB: I couldn't imagine doctors getting out of the decision-making process and leaving it entirely to individuals. If you give the average senior citizen a choice of going in for that colonoscopy or keeping the money to see the kids for the holidays, they're going to keep the money. I tend to think we're about to see a new era of détente between health plans and providers. There's a lot of evidence that health plans have been managing costs, not care, and we're about to get into some soul-searching about what managed care is. We'll have to turn the physicians loose, but we'll have to align incentives to do so, and to make sure the money lines up to reinforce behavior.
GORMAN: I think we've had enough experience with managed care to understand what worked, what stopped working, and where we need to go. Whether we have the will is a different question. Group- and staff-model HMOs — Kaiser, Tufts, Harvard — provided high-quality care with good patient satisfaction and high physician satisfaction for a long time. Then they all started expanding to network models, and they all got into trouble because it was a different approach from what had worked. The thing that makes Mayo work is all of those guys know each other, and when they've got a patient — whether in Rochester or Scottsdale or Jacksonville — they can pick the phone up and talk to somebody who they know and trust and have an informal consultation. That's what has made group practice work. [Its] model for combining the financing mechanism and the risk transfer and the alignment of incentives will be difficult to replicate all over the country. We have a profession that cherishes independence, with a lot of docs in groups of one or two. The group-practice model makes sense for providing good, high-quality care with professional and patient satisfaction at reasonable cost.
CROOKS: [Takes another question.]
QUESTION: We invest in disease management [because] probably less than 20 percent of the population spends 80 percent or more of health care dollars. Why not concentrate on areas that will get the biggest bang for the buck, and start spending on prevention? Preventing disease is a lot cheaper than treating disease. Second point: E-commerce. When is health care going to get into E-commerce, so doctors can get information they need to do the right thing? Most are crying for information, but few health plans can give it to them.
---
Gorman: Health plans will get out of the business of medical decision making, and simply market and sell insurance products, offload risks for chronically ill populations to specialty networks and companies, and provide massive information systems to physicians to help them fight disease.
---
GORMAN: Health plans are going to get out of the business of medical-decision making and simply market and sell insurance products, offload risks for chronically ill populations to specialty networks and companies, and provide massive information systems by which docs [can obtain] the data they need to fight costs by preventing disease. And then, I think we will probably find health plans provide real monetary incentives to people to act as smart health care consumers.
LAMB: About disease management: The problem is that when you make it available to the 20 percent you're talking about, they don't want any part of it. It's got to be the patient's problem — in other words, "Here's the deal. You get $7,000 a year. You can take it in salary or buy insurance with it." And that is where consumerism and the financing mechanisms are going. It will become about commitment — whether to quit smoking, for example. That's the problem you get when you expect the HMO to promote quality: They're trying to help other people. And I don't think that that works. People have to figure it out for themselves.
JESSEE: Isn't that the philosophy of public health?
LAMB: I'm telling you, public health was 50 years ago. Take Healtheon/WebMD. That is consumer-patient focused. The Internet is not focused on aggregation, but individuals. It's not a group process any more. [The health care system is] going to say, "Obesity is your problem, not ours." Pharmaceuticals are a great bridge to this, because they provide a solution to the individual. We're moving into a patient-centric, consumer-centric environment.
JESSEE: If I want to buy a house in the mountains outside of Denver, and the nearest fire department is 13 miles away, that's my choice — but I'd have to pay a lot more for fire insurance than I do for my Denver home that's 100 feet from a fire hydrant. We don't do that with health insurance. I think we ought to look at underwriting surcharges or higher deductibles or copayments for people who choose such lifestyle alternatives as "I like being fat, because it makes me feel good." Fine, but you shouldn't pay the same for health insurance as someone who chooses to be leaner. If there are factors outside your control, like genetics, that's different. [Regarding E-commerce,] the information revolution is going to change everything. [Providers] are capital-poor, and that's one reason health care has been slow to adopt modern information-management methods. The Internet's changed all of that. The Internet is like your water system. When you wash your hands, there is a water-delivery device that is extremely simple. All you have to do is turn a handle and it delivers. Computing has not been like that. The end devices have been complex, and that's been a major barrier, particularly for small medical practices. But with the Internet, you can have 10 physicians using 10 different systems, because each can go to a terminal and pull it up off the Internet. So over the next two to three years, you are going to see a total shift in the way we manage patient information, and communicate with patients.
CROOKS: [Takes a question.]
QUESTION: To move ahead with quality, we'll need intellectual leadership from someplace. I see some refugees on stage: John has left government, Steve is leaving NCQA, Bill has left AMA. Someone has to take the lead. I haven't seen a new idea come out of managed care in 10 years. Where is that spark going to come from?
JESSEE: The American Association of Medical Colleges had a simple answer to that: We are going to make quality part of the medical education process, which it is not now. In fact, they'll make it part of the boards for physicians. I think there is a new appreciation among the regulators of medical education that they need to make physicians champions of quality. Who will champion it on the consumer side is a challenge. We hope NCQA or others would. Consumers are not interested. We ran a survey and asked, "What are the top things you would be interested in knowing about the doctors in our network?" Number 1 was, "I want a picture." Number 2, "I want to know whether they're married and have kids." Board certification and quality parameters weren't on the radar screen. We have a fundamental challenge to [change] that.
CROOKS: Thank you, panelists.
PANEL DISCUSSION
Health Care Reform: The Consumer's Viewpoint
Consumers are a powerful force that can drive more change in health care than any legislation ever could, this panel concludes. But empowering them to do so is another story.
---
THE FACULTY
James N. Astuto, Regional Health Care Manager, GTE Corp., Atlanta
Donald C. Balfour III, M.D., President and CEO, Sharp Rees-Stealy Medical Group
Charles Inlander, President, People's Medical Society
Lorraine Pastore, Managing Director, Medicus
Myrl Weinberg, President, National Health Council
MODERATOR
Gene Beed, M.D., President, H.Z.U.
---
From left: Charles Inlander, Myrl Weinberg, Donald Balfour, M.D., Connie Pastore, and James N. Astuto discuss the influence patients can have on the system.
---
GENE BEED, M.D.: We're all consumers of health care, but these folks are up here because they also have some additional or different perspective on what the consumer role in health care is. Jim, let's start with you.
JAMES ASTUTO: I handle employee-health purchasing for the Eastern U.S. We spend $600 million a year on health care, and when [our merger with Bell Atlantic] comes together, I think it will be close to about $2 billion a year.
LORRAINE PASTORE: I'm managing director for an advertising agency in New York that specializes in direct-to-consumer advertising. We were the agency that was responsible, along with our client, for changing the FDA's ad guidelines in 1997.
DONALD BALFOUR, M.D.: I represent a multispecialty group in San Diego. We have been [judged as having] the highest quality standards by health plans in California. We were the number one group, out of 143, in California for Blue Cross, and we are, at the same time, the number one group in PacifiCare, out of 187 groups.
MYRL WEINBERG: We are a not-for-profit group of 115 national health-related organizations. We work on three things: To improve quality of health care, to promote the importance of medical research, and to improve awareness of our organizations. We conduct a lot of research related to patients, primarily people with chronic disease and disabilities. We will not use words like "rights" and "responsibilities" outside the legislatures or D.C. We will not talk about being an "equal partner" with your doctor. The theme is, "It's your health. You call the shots."
BEED: Very good. And comrade Inlander?
CHARLES INLANDER: Yes, I'm comrade Inlander. The People's Medical Society is the largest not-for-profit consumer health advocacy group in the United States. We have two goals. The first is to get information to the public about health care and diseases. The second is to reform the system to be more responsive to consumers. Our thrust is to empower consumers when they interact with providers. When they interact with doctors and hospitals, they will change the system far more effectively with the information they have than all the legislation to promote change. We're also one of the largest publishers of consumer health information. We've published over 115 consumer health books, such as Take This Book to the Hospital With You and four of the Dummies books about health and first aid.
BEED: And if you never read any of Charlie's organization's books, Take This Book to the Hospital With You recommends that if you're having surgery on a knee, take a permanent indelible marker and before you go to the hospital write "Left knee, this is the one. Right knee, do not touch." Great practical things! Well, about how we buy health care: What if, when we buy an automobile, we pay a $5 copayment for the car, and we can only go to "B" dealerships that our employer selects for us, and the salesperson determines the proper car for us to drive? If that makes no sense, why does our health care system do that?
INLANDER: We do buy cars that way, for the most part. Most of us don't pay out of pocket — we get a loan. The salesman talks up a price, and gets us a bigger car that we probably can't afford with more gadgets than we actually need. But you can look at Consumer Reports to see how they rate the car. You can check with the National Transportation Safety Board to find out if the air bags work, if it had recalls, if it blows up when it gets hit. You can see mandatory disclosures. But when you go to the hospital, you get zilch. You don't know what the infection rate is. You don't know the names of the doctors who had privileges suspended. You don't know the drug-error rate. You know nothing about your doctors when you go to their offices, except a few of things that are put on the wall. You don't know anything about their outcome rates or about their competence.
BEED: Jim, do GTE employees want you picking their insurance? Does it help them, or would they be better off making their own choices?
ASTUTO: They make their own choices, because we give them a lot of them. We have at least three indemnity programs to pick from, plus the quality HMOs. But I want to go back to the first question about paying for it, and then about choice. This morning, I went down to the AstraZeneca breakfast, which was free. I didn't complain about the menu. If I didn't like it, I could have hustled over to one of the other cafeterias and ate on my ticket. So our opinion is, when we're paying, I think we have a right to make the menu. If you don't like it, dig into your pocket and buy something else.
WEINBERG: We have found that often, the changes in health plans offered to employees are made solely on the basis of not quality, but employee complaints. That speaks to the power that the patient can have, and that's one thing we're working to help them understand.
BEED: Don, how does this affect the way care is practiced at Sharp Rees-Stealy?
BALFOUR: Well, right now in Southern California, health care is what I call a wholesale business. Employers pay for health care, and employees sometimes have only one option. Sea World, in San Diego, decided this year it would offer only Kaiser. That's what I call wholesale. What we're talking about, really, is going to the retail side — giving patients a voucher, allowing them to choose where they want to receive care.
BEED: How do we empower those consumers, Lorraine — is it through television, so we can see that if we take a pill, we can climb the mountain?
---
Patore: If the managed care organizations are concerned about what DTC advertising is doing to health care consumption, then they have the solution in the palm of their hands. They can be communications companies, too, and improve their image the very same morning.
---
PASTORE: Make fun of it, Gene, but the fact is that consumers are learning from DTC advertising and are participating more in their own care. Charles made the point that people don't know about their doctors and hospitals. But they know about their drugs. It has helped in other ways, too: It has helped about a third of patients be more compliant about their medications. It has helped another third remember to get refills.
BEED: [Takes a question from an HMO medical director in the audience.]
QUESTION: Patients are being informed now on the Internet. My physicians say patients come to them with information that they don't even have yet. And they don't know what to do with it.
INLANDER: Consumers are desperate for information, and the system has never been one to disclose it. The system has been set up to intimidate. I lectured at Yale School of Medicine. I walked in, and these second- and third-year medical students were sitting in white coats. Now, what's going to spill on them while I'm talking to them?
BEED: Maybe some gourmet coffee.
INLANDER: I thought, "This is absolutely absurd." And so, the system that is set up is: I walk in, you call me Charlie. I call you doctor. It should be the other way around. It's a service. Consumers and the system have never been able to communicate.
BEED: Don, Charlie brings up a good issue: Doctors aren't trained to talk. It would be nice if docs would take time to explain. But if they do this, what are they not going to do? What are we doing now that technology can help us do more efficiently?
BALFOUR: The electronic medical record will allow physicians to spend more time with the patient, and less time in nonpatient contact. And that's been proven at the Mayo Clinic in Jacksonville. They have EMR now — it's paperless. And that has shortened the nonphysician contact time that every interaction with a patient [generates]. If a patient calls for a prescription refill or for test results, instead of calling back in an hour or the next day when you pull the medical record, you can bring it up on a screen and do it right then. It takes 20 seconds.
BEED: [Takes another question.]
QUESTION: Jim, within your benefits managers group, have you thought about giving employees incentives, say, for good health patterns? Say, for example, $250 extra for those whose weight is within particular parameters, and another $250 for blood pressure that is in good shape? It seems that employees that take good health to heart subsidize those that don't. Is there a way to reward the educated consumer that tries to stay healthy?
BEED: Yes, Jim, what about a "fat tax"?
ASTUTO: We've been discussing it, I think, for four years. We call it the health plan for the healthy. So, you're diagnosed with diabetes? If you are willing to come into disease management — not that you have to get the disease totally under control, but you agree to participate — you're going to watch your weight, you're going to take your insulin, you're going to exercise, and we'll reimburse you 100 percent of your health care costs. If you're really not interested, if you just want to show up as a train wreck and be fixed, we'll say, "That's OK, too. But now it's going to be 80 percent." I've never heard a health man come in and want to do that.
INLANDER: Jim Fixx was the leader of the whole jogging thing. He dropped dead jogging down the street. Do you have to get a refund from his family because he was doing the right thing but he died anyhow? You can't pin it on whether someone is in a range. Pin it on whether someone's in a program, and not necessarily on results, because results can be all over the place. It could be because the doctor is using the wrong medication. It could be because a patient can't afford certain things. An even more powerful thing an employer can do — and most still don't do this — is [demand that health plans use] better providers. You're not hiring better providers now; you're hiring everybody who will take your deal.
BEED: But Charlie, doesn't that run counter to consumers? Didn't health plans expand provider networks because consumers said they wanted every provider?
INLANDER: Right. And I don't think that's good.
BEED: But that's what consumers say they want.
---
Inlander: Most knowledgeable consumers support the concept of managing care. The problem is that we don't have very many managed care companies managing care.
---
INLANDER: Consumers say they want it, because no one demonstrated that they were managing any care. Most knowledgeable consumers support the concept of managing care. The problem is that managed care companies manage money. Therefore, they took in everybody because consumers said, "Look, you're not doing anything." So they hire anybody to get an employer to sign up."
BEED: Jim, how come you guys are doing it?
ASTUTO: There's no differentiation in medicine. A doctor is a doctor, they're all "good" — and that's the problem. Consumers say, "You can't tell me this doc is better than that doc, so bring my doc in." And the employer says to the managed care plan, "If you want us, 55 percent of my employees go to these three groups. Bring them in, because you're not showing me anybody is any better."
BEED: Are you saying that if a health plan came to you and said, "Our network is smaller than the other networks, but let us tell you what our criteria are and why it's smaller," that would sell you guys?
ASTUTO: Kaiser is just that. We have huge enrollments in Kaiser, and we try to steer our people towards those models. We think we can show that the group model is a far superior model for providing quality care.
BEED: We're going to let folks contemplate on that one.
INLANDER: We need a user-friendly system. There are plenty of ways to simplify the health system down to what consumers need to know. I'm a not a physician, but I read more medical journals than most physicians. I read PDR. But you don't hear me talking that language. You don't hear me talking about contraindications and myocardial infarctions. I say heart attack. And that's what you need to do to focus on the people who are going to receive care. Then they will be able to use the system and have more respect for you and the information they get from you when making decisions.
PASTORE: I think that's a great point. When we call disease management programs "disease management," you're not going to get people to raise their hands and say, "Yes, that's me, I have a disease." They want to say, "I'm helping myself. I am improving my health. I'm not labeled as having a disease," and I think that's an important thing.
WEINBERG: There are persons who may be very well educated but hail from some other culture, speak some other language, use words in a different way. If we do not find a way to have real communication with that person, we're never going to solve this. We have to have multiple strategies for communication. If we're going to use the Internet and give people data that is as specific as we need to know how our doctor is doing, then we need common data elements and a common language.
BEED: [Takes a question from the audience.]
QUESTION: Let's talk about the Patients Bill of Rights. I see what is really a "provider bill of rights." It's really about letting doctors go back to doing what they do. I'm a physician. Docs have formed an alliance with the consumer. They say, "We're in this together, and the bad guys are the HMOs." Yet I hear you saying very different things. And I wonder, with all the [bad press] about managed care, if there aren't a lot of intelligent consumers saying, "Yes, we've got problems. But you know, this is a system that can drive all of this stuff you folks have been saying, and we need that. So we can't have legislation that's going to ruin the system."
INLANDER: You are absolutely right about the Patients Bill of Rights. Never was a patients' bill — there was only one quasi-consumer advocate on the group that came up with it. It's a political thing. Washington can run back to constituents and say, "I introduced a bill." There are thousands of bills about health care that are grandiose and nothing ever comes of them, but a representative can say, "Look what I'm doing for you." And the public doesn't know there's never going to be a vote or that it's never coming out of committee.
BEED: So Charlie, is there a role for consumer organizations like yours to counterbalance that?
INLANDER: We try to ignore most of that stuff. What we're trying to do is change the customer. You don't see Congress giving incentives to employers to create better disease management, because health care is not regulated at the federal level — it's regulated by states. And at the state level, it's almost impossible for a consumer advocate to go state by state to fight everything that comes along. The AMA is powerfully organized at those levels. So you have to do this through the media. You have to yell and scream, and hopefully build a consensus. I wish that providers like you, who obviously agree with these issues, would speak out publicly, and not just let one trade association of health plans speak for everybody, when they don't speak for everybody.
WEINBERG: Yeah, but patients have nowhere else [to turn]. They're frustrated that they can't find a way to draw attention. So it would be totally inappropriate for them to oppose something like [the Patients Bill of Rights]. If they had their preference, they would go some other way. But if you can't get it done some other way, then the only way to get attention is to take it to the legislature.
INLANDER: And what the legislatures say to you is, "Next time, we'll fix it." When they [established] the Data Bank, Ron Wyden had to keep it from public view to satisfy the AMA and a few other groups. He said to us then, "Look, I know you're opposed to this, but in a year or two, I'll fix it." Well, here it is, 14 years later and we have been back to him and others umpteen times. Never once has there been a piece of legislation to open the Data Bank publicly. This is how we and most consumer groups are treated. So we try to get people to change their own behavior, and that seems to drive the system more effectively.
ASTUTO: We have this mandatory two-day hospital stay for a newborn. Has anybody ever looked at that? Hundreds of millions of dollars, and I bet we got this much [Astuto makes a "zero" with his thumb and forefinger] clinical improvement.
BALFOUR: Physicians have a real concern about legislation by body part. It's very difficult to turn down mandates if you're looking at them one at a time. Who would ever turn down cancer screenings? But no one is looking at the whole picture. In California, the governor just signed 21 new bills with six new mandates. And those mandates are going to cost $2.50 per member per month for every Californian with health insurance. Health care is going to become more and more expensive, and our uninsured rate — now 22 percent in California — is going to go to 30, 35 percent, and then the whole system will fall.
BEED: We have one or two minutes left to summarize this session. Jim, what should the employer do to move things forward for the consumer?
ASTUTO: The employer is still pretty apathetic. We need to get back into the game. The chairman of Kaiser, David Warren, said to me the other day, "You guys have never demanded quality." I said, "Oh, yes, we've always bought quality. We've just never been able to show that you delivered it."
WEINBERG: The Robert Wood Johnson Foundation looked to the future of health care. The only factor they could identify that could significantly change the whole system was consumer action. And so what we should do is find ways to provide consumers with the information they need to be assertive patients in an appropriate manner.
INLANDER: My only comment is that when you're dealing with your clients and each other, remember: The bottom line is, "How are we getting health care to consumers?" Are they being informed? Always put yourself in those shoes. Could you make this decision with the amount of information you have? If you do that, you are going to start thinking the way you want people to think about you.
BEED: I think that's the golden rule: Do unto others as you would have them do unto you. I can think of no better way to conclude.
SPECIAL KEYNOTE
Changing the Public's Image of Managed Care
Nancy Wilson Dickey, M.D.
---
Nancy Wilson Dickey, M.D.: "There's a lot of dissonance in the messages people get that contributes to their perceived need to change health care." We talk about the miracles and we take them for granted, but we don't often talk about the costs: developing the technology, the scientific research, or the care.
---
Nancy W. Dickey, M.D., is the immediate past president of the AMA, and sits on its executive committee. When the AMA selected Dickey to be its president, it marked a dramatic departure from the Marcus Welby-like mold that the nation's largest physician organization had favored. Dickey was the first woman to head the 294,000-member professional organization, where she has held a variety of leadership posts since 1977.
A board-certified family physician and a fellow of the American Academy of Family Physicians, Dickey received her M.D. and completed her residency at the University of Texas Medical School at Houston. In addition to maintaining an active family practice, Dickey is program director for the Brazos Valley Family Practice Program, associated with Texas A&M University in College Station, Texas.
---
I can't help but think that if the question before us is how to change the public's view of health care, the answer is simple: Let's change the health care system. Obviously, it's not quite that easy. But why should we change it? We have the best health care system in the world.
And yet, if you read our newspapers, we're not sure it's really the best system. Let me share some of the issues I think contribute to the challenge of developing the best system to go along with the best care that we could possibly have.
First, the United States has exceptionally good high-tech care. That, we don't want to change. But it certainly complicates the care-delivery process — particularly for those who are attempting to pay for it — as we attempt to satisfy what appears to be an unquenchable thirst for more and more care.
Second, a fair number of people believe that if they can just get to the right doctor, the right hospital, there is no problem in the United States that can't be fixed. Now, that comes about for a lot of reasons. The media like to tout the wonderful things we can do in health care, and frequently suggest that we can do almost anything.
You may recall the story about a young man who was working on a farm in Minnesota. He was by himself, had an accident with the machinery, and amputated both forearms. He got himself to the house, found the only touch-tone phone in the house, and dialed 911. Emergency care got there. They actually went down to the machinery and retrieved his arms. And [physicians were able to] reattach both.
What a story! It confirms what Americans believe: If I could get to the right doctor, there's no disaster we can't fix. That creates a problem: We can't cure everything.
Another issue: The United States health care system, its doctors, hospitals, pharmaceutical companies, and insurers are greedy. That message is reinforced, whether it's talk about greedy doctors, or about all of those terrible bureaucratic hurdles to keep me from doing things to patients that don't need to be done. And I return the favor by saying, "You know, it's just those greedy insurers. They're driven by the almighty dollar." And so when anybody, whether it's a pharmacist, a doctor, a nurse manager, or whoever, gives us some information, Americans wonder if they can trust it: I wonder what motivated that particular recommendation?
Here's another: I pay too much for my insurance, despite the fact that Americans pay very little compared to the amount [of health care dollars spent] per person. It hasn't helped, of course, that as the cost of care has been the focus, we have [increased] out-of-pocket costs or asked them to pick up a share of the premium.
Miracles taken for granted
It's in the midst of those not-exactly-collegial philosophies that your question about how to change the public's view of health care is both timely and appropriate.
What's contributed to this? First, an extraordinary half century of advances in health care. Think about what we've done in medicine in the United States in the last half century. Though we have only 6 percent of the world's physicians, the United States has over half of the Nobel prizes in medicine and physiology.
This country pushes the envelope all the time. We have eliminated entire diseases, such as smallpox, from the world, not just the United States. Other diseases, such as polio, have virtually disappeared from the United States, and we're working on getting rid of them in the rest of the world.
We have devised and virtually perfected the concept of transplantation. If you wear out an organ, no problem — we'll give you a new one. We have seen remarkable advances in oncology, so that children with leukemia and mothers with breast cancer not only dare to hope, but have a reasonable bet that they can be cured.
HIV was once an 18-month death sentence if you were lucky. Today, I tell patients to work at controlling that disease, because they can look at years of productive life — as opposed to planning their funeral the day they get the diagnosis.
We talk about the miracles and we take them for granted, but we don't often talk about the costs: developing the technology, the scientific research, or the care.
And that has helped create part of the perception problem in health care. In fact, over the last 50 years — that same 50 years where medicine was developing this extraordinary array of possibilities — we have gradually moved into a system of first-dollar coverage.
First-dollar coverage has insulated people from the cost of care, so they don't have to care about the cost of the transplant or even the medication that will go with that for a lifetime. And that combination of insulating people from the cost and stacking the shelves with a fabulous array of medical possibilities has led to some dissonance in our public that creates the problems in today's health care system.
This last decade has enhanced the tension. In the 1980s, the people who paid for care determined that cost had to be dealt with. The market began to change. Managed care became the byword. Saving money became the mantra, and it was simply presumed that quality would be there.
Costs did ameliorate — or at least, they flattened the rate of rise — for a time. In fact in California, premium rates actually rolled back a little. And they did so with some efficiencies — carving some fat out of the system, putting some controls on decision making. Now we are beginning to see those flattened curves begin to rise again, and depending on where you are in the country, employers are faced with 5-, 7-, 10-, even 12- and 15-percent increases in premiums.
Blinded to the good
Some of the vehicles for cost saving were unacceptable to doctors, patients, or the public. In fact, the anger and frustration directed at the bureaucracy called managed care diverted virtually everyone from looking at some of the good things that were going on in managed care.
For example, managed care has moved medicine forward immensely in terms of measurement and evaluation. If you ask me whether immunization is good, I would say, "Absolutely, of course it is" It's one of the most cost-effective things we do. And if you ask me how many of my patients are appropriately immunized, I would say, "Why, most of them." But if you actually pull out doctors' charts, it turns out that some offices have 37-percent appropriate immunization, some 45 percent, and some really great ones get up to 62 percent.
Nobody has to tell us those aren't good numbers. But nobody had demanded that we pull out our charts and actually put a number to what our perception of our performance was. That's a good thing, as uncomfortable as it might be.
Managed care improved the integration of care. It recognized that some of the fat in our system was that both patients and physicians tended to use a lot more of the system than perhaps they needed. Patients had different doctors rather than a single physician when it was most appropriate. Because no one doctor knew the whole litany, there was no one to say, "This drug is offsetting that drug," or "You are taking two or three drugs that, theoretically, are all doing the same thing."
Nobody was listening to the good things managed care did, because they were angry and frustrated at the imposition of controls on their decision making.
People were fixated on seeking approval of experts. They were angry about having to call a clerk. They were distracted by awful tales of babies being diverted from one hospital to another and having complications. And that anger, I think, continues.
Well, that's where we are. A system that can deliver extraordinary things — but maybe not as much as the public thinks. A system whose costs probably are going to continue to go up as some of this fabulous technology comes about. But a system that has insulated the users from knowing the cost.
Build trust
Then how do we go about changing the system — or the perspective?
First, we need to create an atmosphere where we appear to have a common goal, where the patient truly is at the center of our decision making. It sounds good from up here, but I worry sometimes that it isn't evident in what we do from day to day.
We need to discourage the kind of public finger pointing that destroys public confidence in us. As long as insurance companies point fingers and scream everything from "fraud" to "greed" to "ignorance," and physicians, in turn, point back and scream, "self-serving profiteers," how are we going to change patients' perception of the health care delivery system?
I believe that most of us in health care really do what we do because it's good for patients, that we want to provide better health care and improve outcomes, and find ways to do it in a cost-effective manner. But as long as we do battle, particularly public battle, patients will continue to see health care as a money machine for us. And they will then be encouraged to squeeze whatever is good for them out of the system, because they don't trust any of us to provide it for them.
Second, we need to find a mechanism to get patients more involved in decisions that affect them. As long as they are insulated from the cost of care, they will demand a great deal more — maybe everything. Someone will have to be the bad guy who says, "You can't have that. I'll give you this cheaper alternative."
If we don't find ways for them to select affordable alternatives, there will continue to be a perception of having been done wrong by somebody in the system.
Americans like to be able to choose what they want. So if the only way to get to cost-effective decision making is by somebody — the system, the government, or somebody — forcing choices on patients, we are likely to have bad guys perceived.
Choices, expensive choices
There was a piece in the paper this morning: "A Brave New World of Medicine Expected in the Coming Millennium." Breeze through it. It's fascinating — if you're a millionaire.
According to AMA President Tom Reardon, "Cures aren't really our final destination." Oh, really? He goes onto to talk about the fact we are going to have wheelchairs that go up and down stairs. I know what it costs when I write a script for a patient to get a wheelchair. What do you think the one that goes up and down stairs will cost? You can bet your booty my patients want that one — not the one somebody has to push.
The article says that we're not going to do routine lab work anymore. We are just going to implant sensors under the skin, so we can have ongoing measures of insulin, glucose, liver function, and the like, if we're trying to treat somebody for a chronic disease.
If you're a diabetic or hypertensive or if you have pending osteoporosis, this has got to be an exciting story. But if you've got to pay for any of that care, this has got to be a little frightening.
So, we tell the press about all the new wonderful miracles that are coming: "Patients, look what we have to offer you." No one — no one — addresses the cost of care. We're going to need increasingly sophisticated ways to select needed treatments, and to find ways to select cost-effective treatment.
Insurance mechanisms that put patients at the table are going to be extraordinarily important. [Something that] makes my patients have to reach into their pockets — not enough to become a barrier to getting needed care, but enough so that they're given an incentive to say, "What are the alternatives, and what do they cost?" They might have to tolerate some inconvenience and choose something that is less glitzy but actually does the same thing.
If patients are not at the table, then the only way to make those choices will be by regulation or by somebody refusing to provide the care.
I'd much rather have my patients say to me, "Doc, give me the prescription. If I'm not better in two days, I will come back for the chest X-ray and the blood count," because they understand that that's not only an extraordinarily clinically acceptable decision, but it's a cost-effective decision for them and for the system if you multiply it by the 1 million doctor-patient interactions that occur every day.
Quality counts
We also need to make measurable progress in providing meaningful quality information to decision makers, and that includes patients.
Physicians fear the data. We don't like report cards. We have been going through school since we were 4 years old. Most of us are tired of report cards. Besides, we are not sure we trust the people who are going to make the report cards. Maybe I take care of a tougher patient population, and it might show fewer good outcomes. Maybe, when you look at my numbers, I will find out that I'm not as good a doctor as I thought I was. It was a little embarrassing to discover what our immunization rates were. Nonetheless, physicians need to get over that and help develop meaningful report cards.
We need vehicles to measure how plans are working: what impact their cost strategies have — not just on the cost of the premium, but also on [clinical] outcomes. We need to ask some questions besides cost and infection rates. We need to ask, "How many of your patients stay in the plan long enough to actually develop continuity of care?" My guess is that would be embarrassing to an awful lot of plans.
Maybe employers need data, as long as they're going to continue to drive the system. And if we're going to allow patients to make choices, then we need to give them information, too, to help them make choices. Good information.
The National Committee for Quality Assurance discovered that there is not much interest in things like HEDIS, because the numbers simply don't dig down deep enough to really differentiate plans.
We need things like NCQA; we just need to say, "Hey, we want you to go one more level. Don't give us a superficial grade. Actually read it. See whether the grammar and the punctuation and the thoughts in it are any good."
As we begin any campaign to educate the public about the potential benefits of managed care, we're going to have to push the proverbial boulder uphill, if you will, against this decade of teaching the public not to trust any source of information.
Continuity of care
I rode in with a cab driver last night, and when he found out I was a physician, he said he had just gone to the doctor. I said, "Well, how do you like your doctor?"
"Oh, there's a different one every year," he said. "I just assume the HMO picks good doctors."
That's interesting. And I hope for his sake it does. But continuity of care has lost out. And some of the concepts of managing disease and managing care have lost out to cost-effectiveness issues. In fact, I often tell patients that they ought to spend at least as much time picking their primary physicians as they do their automobiles. I don't know anybody who walks into the first dealer they go to and says, "I'll just take that one," without talking about price, performance, and service.
We don't do that with our physicians. We look in the Yellow Pages, we wait until we get sick and go to the emergency room, or, these days, we wait until we get sick and figure out who somebody assigned us to see.
---
Dickey: We need to discourage the kind of finger pointing that destroys public confidence in the health care system. Insurance mechanisms that put patients at the table are going to be extraordinarily important.
---
My plea often falls on deaf ears, but I think that we should give patients incentives to know how systems work and where some of the cost savings are. And that while it's important for me to understand who my patients are, it's extraordinarily important for my patients to know who I am. Because if they don't trust my recommendations, I would encourage them to find another physician.
We need to balance that message with the immense challenge of how to figure out what to do with all this extraordinary technology.
And we need to attempt to move from the financial to the medical perspective of managed care. We need our patients to understand that managing their diseases means trying to make sure they spend as little time and money on dealing with illness as possible, so they have most of their time and money to deal with living.
These goals, if accomplished, would enhance public perception of health care.
Introducing consumerism into medicine
DICKEY: People need to know the cost of the decision-making power they desire
Psychiatrists have said for years that if people don't pay for a little bit of the care, then it has no value. I'm not sure that I would go that far. But, it's important for patients to be involved in cost decisions as much as in care decisions.
Let me share some examples:
It's not uncommon in my office during flu season for people to come in with a cough and a fever. I do an examination and say, "It looks to me like you've got a little bit of pneumonia. I can get you a prescription, and if you're not better in a couple of days, come back and we'll do a blood count and a chest X-ray." And 100 percent of patients who have to pay a reasonable copayment or have to actually pay out of pocket for the visit say, "Great idea, and by the way, would you make it a $60 prescription, not a $200 prescription, for an antibiotic?"
But patients who have first-dollar coverage will almost always say to me, "I'm already here doc — why don't you send me for the blood count and chest X-ray so I don't have to come back and sit in your waiting room a second time?" And my brain kind of says, "That's $300 I'm adding to the cost, and it probably doesn't change anything. But if they don't have to care how much it costs, what do they care about the $300? Their time in my waiting room is much more important to them than the cost of the chest X-ray and the blood count.
I talk about high cholesterol with patients, and the first thing we do is look at diet. Over half of them say to me, "Can't you just write me a prescription? Then I don't have to change my eating habits. I could eat my half-pound of ice cream every night before I go to bed." That's the American way.
My husband is a high school football coach, and periodically I serve as the team doctor. And when a kid twists a knee out there on the field, it's always an interesting debate. If you send him for his $900 or $1100 MRI, immediately you will know how bad the damage is. On the other hand, if the examination is fairly benign, then in the vast majority of cases, if that kid just sits out a couple of weeks and lets that sprain heal, there's no need to spend the $900. Now, if he's a $3 million-a-year football player for a pro team and they want to spend the money on an MRI, that may be different. But my moms on that football team look at me and say, "Why don't you want an MRI on my kid's knee?" It doesn't cost her anything; her insurance will cover it. And I would say, "You folks help contribute to this."
While it's important for me to understand who my patients are, it's important for them to know who I am. If they don't trust my recommendations, I would encourage them to find another physician.
PANEL DISCUSSION
Treating Diseases and Managing Costs
Are employers interested in disease management? Are physicians interested in improving quality of care? Are patients interested in any of this? A provocative discussion.
---
THE FACULTY
James N. Astuto, Regional Health Care Manager, GTE Corp., Atlanta
Nancy Wilson Dickey, M.D., Immediate Past President, American Medical Association
Thomas C. Hawkins, M.D., Medical Director, Customers and Product Management, Harvard Pilgrim Health Care
Michael Alan Kaufman, M.D., J.D., Senior Vice President and Chief Medical Officer, WellPoint Health Networks
Jerry Reeves, M.D., Senior Vice President and Chief Medical Officer, Humana Inc.
MODERATORS:
Gene Beed, M.D., President, H.Z.U
Glenna M. Crooks, Ph.D., President, Strategic Health Policy Inc.
---
From left: Nancy Dickey, M.D., discusses direct-to-consumer advertising with Thomas Hawkins, M.D., Michael Kaufman, M.D., Jerry Reeves, M.D., and James Astuto.
---
GENE BEED, M.D.: How do we come up with programs that help folks who have diseases make their life better? And the flip side: If we're managing quality and managing disease, how do we also manage cost — which is part of the equation?
NANCY DICKEY, M.D.: I run a family-practice residency program in Texas, attempting to teach these concepts to young physicians. These physicians are reasonably willing to see themselves as employees, and that means changes in their relationships with patients. A part of their fidelity, now, has to be to who cuts their paycheck.
THOMAS HAWKINS, M.D.: The concepts of patient choice and how we might balance finances so the consumer has more participation in the cost and choice — that, colliding with the information revolution, is just going to be amazing.
MICHAEL KAUFMAN, M.D.: Most of us in medical administration believe high-quality care is cost-effective care. Those of us who practiced in the "old system" didn't have the opportunity to formulate DM strategies. In the evolution of managed care, there have been incredible innovations that are now obscured in debate.
BEED: Jim, as a purchaser, what's on your "wish list" for DM?
JAMES ASTUTO: We've heard for years that ABC HMO has a DM program, but I don't think we've ever really seen one. I would be glad to see how we can use any such program. I'm really outcomes driven. And I make it personal, because my uncle's sister just went blind from diabetes because she didn't manage her disease properly. It's really easy to depersonalize it and say, "Okay, people are going to go blind." That's terrible! I don't want my feet cut off, and I don't think anybody else does. When we got into managed care, the goal was never to get to zero. But man, I want to see fewer people go blind. So can we make it better for patients?
KAUFMAN: I get asked by employers about DM. What they want is really simple: "Could I randomly call one of my diabetics and say, 'Is anybody keeping track of you?'" I think they're afraid to do that, because they're not certain that every diabetic patient is being actively managed.
JERRY REEVES, M.D.: Let me push back a minute. I don't believe a single employer has chosen Humana because of its DM programs. We started in 1996 with our congestive heart failure and hospitalist programs, and found that for those with stage 3 and 4 CHF, this intervention decreased inpatient costs 61 percent and increased survival. It increased the cost of drugs, because patients were complying with ACE inhibitor therapy. But the overall cost of care went down 51 percent.
BEED: How have you communicated those programs to folks like Jim?
REEVES: Our sales folks say that what they hear from employers is price and service, and by service, they mean how fast the phone is answered. Their eyes glaze over when it gets to health care.
BEED: Jim, how come?
ASTUTO: Well, this is the Ivory Tower versus reality. When the sales force comes out, they can hardly spell managed care. I've complained about this for years. Plans like Humana have good programs, but it's not communicated to us.
BEED: How about it from the medical side? Does DM get communicated? Are you looking at employee productivity and decreased absenteeism?
DICKEY: I think medicine tries to demonstrate quality. But unfortunately, no. I think increasingly, physicians — particularly if they're employees — look to medical directors. The equation would be very different if individual physicians were held accountable. The more individual physicians get report cards about how they, not the group, perform, the more will buy into the impact of this.
BEED: A simple example: varicella vaccine. Why do we immunize kids against varicella? So Jim's employees can be at work, instead of at home with a kid with chicken pox. What have we done to tell folks like Jim, "Hey we're keeping your employees at work because we're immunizing their kids"?
KAUFMAN: We have. Some employers get it. Stress in the workplace is beginning to get employers' attention, because they are leveraged on smaller numbers of people who work longer hours.
REEVES: We have tried to work with employers to develop productivity measures so that we could monitor whether our programs help. Problem is, we can't get data from employers. It's difficult for them to give us information that measures productivity. Another element is that we, as a society, aren't ready to deal with the fact that depression is so prevalent. When you talk about knowledge-based companies, their ability to have employees who are at the top of their games is severely affected by depression. Yet they aren't willing to make it easy for folks to be screened and enter depression programs.
GLENNA CROOKS, PH.D.: [Takes a question from the audience.]
QUESTION: Throughout this conference, we've heard about accountability and data. Dr. Dickey, can you express the AMA's position toward a unified physician database?
DICKEY: The two pieces that are most important to patients and to the system are measuring outcomes and processes of care, and having a report card of how individual physicians perform. The development of those has been immensely slow. The kinds of report cards we get from managed care companies tend to be superficial. They're too often based on money, not outcomes. It's going to require a huge amount of work to measure that in a fair and equitable way and present it to employers or patients, but we're committed to seeing it happen. Doctors, I think, are a little concerned. We think of the bad measurements of the past. I watched physicians lose their ability to practice in a given hospital because the care they'd given in a 20-bed, West Texas hospital was evaluated by the director of the intensive care unit at Parkland Hospital in Dallas. That guy had no concept of what it was like to take care of patients in a 20-bed hospital where "stat" meant, "Can you get me the answer before tomorrow?" All that said, we have to do it, and we have to speed up the time line. We ought to have measurement systems in place within the next four or five years, and we should recognize they won't be perfect. But until you get the system on the table, you're not going to improve it.
ASTUTO: You have four fabulous doctors here. By definition, two are below average. So which two of you are above average, and which two are below? I have never met a physician who wasn't at least 90th percentile. "I'm the best." How will consumers know who's the 20th percentile and who's the 90th?
BEED: Dr. Dickey, isn't the AMA just going to produce the Lake Woebegone syndrome, where all docs will be above average?
DICKEY: These are kids who were probably valedictorians in high school. Medical school is a real awakening for physicians: "We can't all be in the top 10 percent, because only 10 percent of us can be in the top 10 percent." But we're not talking about a bell-shaped curve. We're talking about the fact that 90 percent of physicians ought to perform appropriate care. There is no reason virtually all of us can't be on the A+ end of the curve.
ASTUTO: I will go back to my favorite disease, the GERD epidemic sweeping America. I go on the Internet and type in "GERD," and the American College of Gastroenterology comes up. There [are guidelines for] how you take care of that: lifestyle modification, Tums, and Rolaids. The next step is over-the-counter H2s. Next is high-dose H2s. If someone has a diagnosis of GERD, you give him the PPIs. Either everybody in America has GERD, or nobody is following guidelines.
HAWKINS: Guidelines are very much dependent on patient compliance. Patients have to be accountable to themselves to effect a lifestyle change, to take the Tums. People come to the physician, they want an immediate solution, and they want it done in seconds. Where the cookbook breaks down is that it involves an interactive relationship. Three parties to the contract are necessary to effect change. When patients become active participants, outcomes are wonderful.
BEED: [Takes an audience comment.]
COMMENT: I work for a pharmacy benefit manager, and many of our employers are concerned about lifestyle. One thing they've asked from us is some sort of model to rank drugs based on lifestyle.
DICKEY: I think physicians want to be sure there's flexibility in the system so we can address individual needs. We know the litany — and GERD is a good one — about treatments, but we also want our patients to come back to our offices. We are tired of being policemen. So to the degree that either the employer or insurer or PBM can motivate my patients to talk to me about alternatives to the PPI, you enhance my ability to interface with my patients. I want to be sure that there's flexibility in there so that I can take care of the patient who for some reason should skip steps two, three, and four, and go directly to the PPI.
BEED: [Takes another question from the audience.]
QUESTION: Where are we going to say, "This is acceptable medicine, and after that there's some room for art" — and how do we get consumers to understand that?
---
Reeves: Americans are inventing the unaffordable and paying the unsustainable. The ability to continue with that is hitting the upper end.
---
REEVES: We send guidelines for expected good care for diabetes directly to our members, so they can go, card in hand, to their physicians and say, "I'd like to have this hemoglobin A1c and this lipid level, because my understanding is that if I'm getting good care, this would have been done in the past year." And I think there is a role like that. Not all physicians embrace that, because that sets up expectations. But I'm sure Dr. Dickey and all who are in practice have patients who come in with expectations all day long. I think there is a way for us to help them with those expectations.
DICKEY: And I'd be delighted if more of my patients said, "Let's make sure I get my hemoglobin A1c every three months and my ophthalmology evaluation every year." We spend a lot more energy telling patients about the magic prescription or the magic operation than we do talking about the fact that health care really ought to be this partnership — "Here are things you can do for yourself, here are things we can do with you, and here are things that you're going to have to look for from the third-party payer, because they're too expensive for you to reach into your pocket."
BEED: [Takes another question.]
QUESTION: Is there a central body with any authority that can impress upon physicians that the cost of health care cannot go through the ceiling? I'm a businessman in a competitive position. The health care system cannot continue to jerk out a funnel of money. There are four physicians on this stage, and I'd like to hear, if I could, some realistic solutions.
DICKEY: The question is "accountability to whom?" Don't forget, I have some accountability to my patient, as well as whomever's paying. You've got to define the difference between reasonably good medical decisions and cost-driven decisions. And the best way is to make sure that patients have skin in this game. For employers who are concerned about the cost of care, there's a quick, easy solution right now: a defined contribution, instead of a defined benefit. Many will choose a managed care plan. But then when they complain that somebody is imposing on them about whether they have to do the first four steps before they get the PPI, they made that choice, as opposed to somebody saying, "This is what I'm willing to buy for you — take it or leave it."
REEVES: One thing that we can do, and Jim can help us with this, is routinely have three- or four-tier pharmacy-benefit plans, so that PPIs would be on a tier where it doesn't cost the same as Tums. He has to keep employees happy, because they may go to another employer that doesn't push this kind of benefit. So we're in this together.
HAWKINS: We catch a lot of flak for three-tier pharmacy systems. But it is absolutely going to change the dynamic. The really amazing benefit of this is that the physician and the patient are going to have to talk about cost and quality trade-offs.
ASTUTO: This is amazing! There isn't one of them who will put on a black hat. So we're going to screw the patient again, because you don't want to say "No"? We use three-tier copayments because we have been dragged into it. I disagree with them totally. The person who truly has GERD will go back to the PPI, at $50 a month. We've got people who only make $35,000. That is a very tough nut for them to swallow. Because why? Dr. Dickey is right. She is practicing high-quality care. But you did not hear "cost-effective" once!
KAUFMAN: Actually, she did say that.
ASTUTO: I didn't hear it out of her the last time! She said high-quality care. It's high quality, but it's the most expensive!
HAWKINS: I disagree. You are out of touch with the age of consumerism.
ASTUTO: Wait a minute, Tom! I'm going to tell you what we pay for! We pay for illness or injury. We pay for safe and effective therapy. And we pay for the least-costly therapy because you guys don't have the guts to go out there and say "No!" You want us to be the bad guys and say, "OK, you pay $50 for that drug from now on!" She wants to be the manager of that person's care? Manage it right!
DICKEY: [So you tell your employees,] "We provide for you the best possible care that's out there — and by the way, the cheapest possible care when we can get your doctors to knuckle under"?
ASTUTO: No, no, no, no! Absolutely, the most cost-effective! I didn't say cheapest!
REEVES: The most cost-effective will be a three-tier benefit when you're talking about pharmacy.
ASTUTO: No, no, no! A PPI for somebody that has heartburn is not the most cost-effective therapy.
REEVES: We can't tell the patients they can't have the quick fix. We can advise them, but it's not our option to say, "You don't have the option."
HAWKINS: OK, Jerry Springer, here we go!
BEED: [Takes a question from the audience.]
QUESTION: We've talked a lot about expectations and entitlements, but I haven't heard much about the consequences of the decisions patients make. How far are we going with either not giving people insurance through an underwriting process, or denying them that treatment option because they choose not to make lifestyle modifications?
REEVES: Americans are inventing the unaffordable and paying the unsustainable. We are reaching a point where the ability to continue with that is hitting the upper end. The economy is doing well now. But trust me, it isn't going to stay this way. The time will come when we get more focused on limited resources. There will be a push to make hard decisions that balance stakeholders' needs.
BEED: [Takes a question from the audience.]
QUESTION: Dr. Dickey talked about finger pointing as a major barrier to consumers trusting the system. And we've seen a little finger pointing here. Are the national organizations — PhRMA, AMA, APhA — working together in any sort of way to reduce the tension and the oratory?
DICKEY: I can assure you there are conversations. Do they reduce the oratory? I'm going to respond personally, and I might get severely criticized if my board were sitting here. In my opinion, most of the discussions are relatively superficial. It's not committed to resolving the underlying problems and attempting to find some common ground. Too often, we walk out of those meetings, find the nearest reporter, and start finger pointing. At the same time, I think there is [a feeling] that maybe we need to talk about it. But over the last 10 years, I've heard rhetoric and not a lot of resolution.
HAWKINS: I think there is among some of the most exasperated players in this game a complete wish to begin to collaborate. Out of chaos comes opportunity. That is the good part about this — it's so messy right now that people throw their arms up and say, "Forget that. Let's sit down and rethink this whole thing."
BEED: We've had a lot of discussion over the last couple of days. What's the most important thing for everyone to take away from this conversation?
REEVES: Conflict is inherent. Employers want to buy smart. Patients want anything that might work. Doctors want a successful practice. I think there are new opportunities with information technology that will help patients be informed decision makers. And I think there are new benefit designs that will push them to get engaged in rational decision making about their care.
HAWKINS: I am most excited about the possibility that we will be able to use information systems to squeeze out huge waste. There is a lot of hidden money that could be tapped into all kinds of programs. But the connections are all broken. [It's like] banking. [Years ago], the typical transaction cost was $1.50. When they went to phone-based systems, it dropped to a buck. When they went to ATMs, it dropped to 75 or 50 cents. Now on the web, it's 10 cents. That money can be plowed back into service and things that people want.
---
Kaufman [right]: It is heartening … this idea of moving toward a collaborative relationship between managed care, physicians, and pharmaceutical makers at the same time.
---
KAUFMAN: It is heartening to listen to Dr. Dickey address this idea of moving toward a collaborative relationship between the managed care industry, physicians, and pharmaceutical manufacturers at the same time. Our goal is to improve quality of care and improve outcomes. The challenge is getting there fast enough, and addressing legislation that in many ways doesn't foster those relationships. I feel like we're trying to run as fast as we can, but we have to run faster, and I thought this was a very nice early step in that process.
BEED: Dr. Dickey, you have the last word.
DICKEY: I hear the preceding comments and say, "Amen." We have the opportunity. We have extraordinary resources, both financial and intellectual. We're not quite clear as a society about where we want to end up. But the opportunity to collaborate and capitalize on the possibilities is happening. If we can bring ourselves to this table and sit on our hands so that we don't point fingers for a little while, the opportunities exist.
CROOKS: Thank you.
MOTIVATIONAL PRESENTATION
The Power of Perspective
John Cassis
---
Kaufman [right]: It is heartening … this idea of moving toward a collaborative relationship between managed care, physicians, and pharmaceutical makers at the same time.
---
John Cassis is founder and president of the Cassis Group. A motivational speaker, Cassis's occupations and avocations have ranged from minister to publisher and entrepreneur. For many years, he was the motivating speaker for the Chicago Bears.
Cassis explains that at a time of change, people are held back only by their own fears. It's not that we don't know what to do — we simply choose not to do it. Growing is about choice and courage. Choosing to change. It's a message that resonates in health care, particularly at a time when change demands teamwork — not every man for himself. By coming together as a team, by demonstrating respect, recognition, and reinforcement, says Cassis, we free ourselves from selfishness and achieve goals together.
---
Benton and Bowles did a study, and they asked, "What do you admire in another person?" The top three qualities were warmth, honesty, and a sense of humor. "Is there honesty and integrity about who you are? In other words, "Can I trust you?"
We live in this world of image, image, and image. But what it really boils down to — and what people respond to most — is integrity.
I was once asked to coach a little league baseball team. My youngest son was 10 at the time. He was on this team with a record of 2 wins, 14 losses — and the wins were by forfeit. The season started with 15 kids, but some quit and now there were nine. Even the coach quit. He couldn't stand to be associated with this team.
So the parents said, "John, take over the team." I said, "I will, on one condition: Keep one thing in mind." I quoted Goethe: "Boldness has genius, power, and magic. There are times we just can't hold back. We need to be bold and face our fears."
So I had nine kids, including my son, in front of me. I'd never coached before, and I didn't know what to do. Something came out of my mouth like, "You guys are the worst team in the league." The little boy in the front never even batted an eye, saying, "Good start, coach. We've got a negative coach again. Great!"
It kind of put me in my place. And I remembered Matt Dupre's quote, "Leadership is an art." He said, "The first responsibility of a leader is to define reality." I guess I was defining reality. "The last responsibility," he said, "is to say thank you. And in between, a leader is a servant who lifts up his or her people and puts them first."
Nine kids who couldn't hit a lick. They had one common fear: getting drilled by a baseball. Some come to the plate and go, "Whoa!" They just don't want to hit. And if they do swing, it's kind of a weak little swing. I said, "No. If you're going to be a hitter, you've got to step right toward the ball with your body, right toward the pitcher. And most importantly, step right toward your fear. If you can step toward your fear, that's all that counts. I don't care if you hit the ball."
There isn't one of us who doesn't have fear. Even as professionals, as highly educated people, we step away. And each time we do it we lose our power.
So the next game, this is what Jimmy was doing: He was stepping away, stepping toward, stepping away, stepping toward. He had his own little style going. It looked like a little dance. I was laughing, looking at how kids struggled with their fears.
Jimmy's dad was 6´-6›. He got up in the stands and yelled, "Jimmy, what is that? You look like a chicken! Hit the ball, the ball won't hurt you!" Wrong! The ball does hurt. "Make me proud Jimmy, make me proud!" He keeps going, "Make me proud!"
Jimmy struck out. He came back, looked up at his dad, and started to cry. The game was over, we lost. I said "Parents, come with me — especially you, big guy."
I put all the parents in a little huddle — an illustration of teamwork or something. And I walked out to the pitcher's mound, took a ball, and started throwing one baseball after another as hard as I could at the parents. They were running and screaming. I said, "Don't be a chicken. Ball won't hurt. Make me proud! Make me proud!"
The guy came up to me. I said, "When I was throwing balls, what did you think?"
"I thought you were a little bit crazy."
"You know what?" I said. "That's what it feels like to the kids."
We live in a world that's changing so fast, it feels crazy. It feels like we're ducking, moving, and ducking.
No more walks
I made a change because my team was so bad. A kid came to the plate with his bat on his shoulder, begging for a walk. A walk is safe. A walk is … mediocre.
First pitch. The kid looked at the umpire with pleading eyes, and the guy went, "Ball one." The kid said, "Yes!" Ball two. He pounded the plate once. Ball three, no strikes. The body language began to change — have you seen this? — they start squirming. Ball four, bat went flying, the kid ran to first base. He beamed.
I looked at him and asked, "What are you so happy about?"
"The walk."
I said, "I know, but it looked like you were begging for a walk."
"Coach, I was begging for a walk. If I swing I miss it every time. I miss and I come back and cry. Don't give me a hard time. I got a walk — what's wrong with that?"
I said, "Nothing wrong with that, son. Make this a career day. There's second base. Go ahead, steal second base."
"No way man, no way."
So I made a new rule: "From now on, no more walks." The kid looked at me and said, "What do you mean, no more walks? You can't take away a walk. A walk is part of baseball. You don't have that kind of power." A mini-lawyer coming after me!
I said, "Son, I don't care if you strike out, and I don't care if you miss the ball. I really don't care if we win the game. But I do care that you dare. Just try, one time in your life, to explore the possibilities of what might be. Just let it go, one time."
Well, you should have seen the next game. Wherever the ball was, they swung — balls over their heads, in the dirt, striking out left and right. What was funny was that not one kid came back crying any more.
We lost every game. But I now had 15 kids on the team — all the kids who quit heard about it and came back. And I think it proves a simple point: People are not burned out on their jobs. They are burned out on the atmosphere in which they have to work. Even in the toughest times of change, if there's leadership, a genuineness, a respect, if there's a recognition for the efforts people put forth, people always respond.
You gotta believe
Season's over. But no, everybody gets to go to the playoffs. They wanted to be fair. And we had to play the number one team.
I decided to teach my kids you can learn a lot by watching the other team before a game. I had 15 kids lined up on the bench, pumped up for the playoffs and a new chance. Jerry was the funniest kid on the team — not a very good ball player, but he had a quick wit. He was as nervous as could be. On both sides of him were girls, and he was telling them, "Coach says this is a big game. Better play your best." This kid's terrible, and he's giving these girls lectures.
The first-place team took the field. When you're first place in anything, you've got this walk about you. One of those kids had this kind of walk.
He looked at my kids and laughed. Jerry was going, "Big game, big game," but then looked at them and said, "We're going to get killed. We've got girls on this team now."
If there's one message I could communicate, it would be this: Sometimes, life will give you a pounding, and you'd better be ready for it. And how you respond will make a difference in your life.
---
Cassis: "Don't break the trust at home. Don't break the trust with patients. Don't break the trust with staff. It's too important."
---
Have you ever been in a situation in life where you got that pounding, and people who you thought were your friends deserted you? Warren Bennis said, "Trust is that emotional glue that binds people together." Don't break the trust at home. Don't break the trust with patients. Don't break the trust with staff. It's too important.
I think when we get pounded in life, we also get a blessing when we least expect it.
We got pounded all year. But we got a blessing, and her name was Beth. This girl had quit the team because she was never given a chance to play by the other coach. Now she came back.
Beth today is 6´-2›, all-state volleyball and all-state basketball. When she was 10, she was gifted. She had a gun for an arm. She could throw a baseball through a wall.
So, what did I have to lose? If you put a 10-year-old girl on the mound to pitch against the best team, and she's taller than any boy in the league, and she throws incredibly hard, you've got a formula for success.
Beth drilled the first two batters, and intimidated the entire team. We won, 1–0.
Life is too short not to tell the people who are important to us that they are part of the team. Spend the time to talk to them in the trenches. Build that trust.
"Roy Dyson said, 'Yesterday is history, tomorrow's a mystery, but today's a gift. That's why they call it the present.' Savor this day, this gift."
Embracing change is difficult…
… but it all depends on perspective. John Cassis uses this exercise to demonstrate
Try this: Fold your hands.
[Cassis does.]

My right thumb is over my left thumb.

Now, reverse your thumb and fingers. How does it feel? Weird, awkward, uncomfortable?

There's change, right there. It feels weird, awkward, a little bit uncomfortable.
David Viscott says, "If you cannot risk, you cannot grow. If you cannot grow, you cannot become your best."
---
Our most popular topics on Managedcaremag.com
---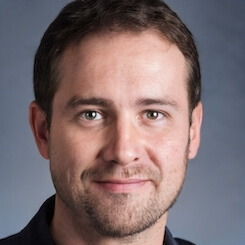 Paul Lendner ist ein praktizierender Experte im Bereich Gesundheit, Medizin und Fitness. Er schreibt bereits seit über 5 Jahren für das Managed Care Mag. Mit seinen Artikeln, die einen einzigartigen Expertenstatus nachweisen, liefert er unseren Lesern nicht nur Mehrwert, sondern auch Hilfestellung bei ihren Problemen.