The 40-year-old has to guide one of the health insurer's regional markets as the ACA continues to evolve. His course? Keep strengthening ties with providers.
"We help our providers understand which members they need to reach out to and ensure that they're compliant with their care plan," says Patrick Cahill, Harvard Pilgrim's vice president of regional markets for eastern Massachusetts.
There's a YouTube clip from August 2013 that features Patrick Cahill speaking outside a conference room at the Mainebiz Health Care Forum. He's discussing the challenges employers and beneficiaries face if they want to participate in the ACA exchanges. Cahill, who is now Harvard Pilgrim Health Care's vice president of regional markets for eastern Massachusetts, was then a member of Harvard Pilgrim's government affairs team.
In the clip, he offers concise advice for Harvard Pilgrim beneficiaries and, mostly, employers. Large employers don't face the tough challenges that small employers and individuals face, he counsels, but large employers should be cognizant of how to manage new responsibilities under the ACA and avoid penalties.
His message to enrollees and employers is that there's going to continue to be a lot of public policy change. "There's clearly a huge opportunity to help our members navigate an ever-increasingly complex system in a better way," says Cahill, who's held his current position for three years.
Harvard Pilgrim, often rated among the best health plans in the country, is on a value-based campaign—although it is using the soft-power strategy of inducements and grants, not strong-arming providers into the arrangements. One way Harvard Pilgrim does this is through its annual quality grants program. In 2017, Harvard Pilgrim funded 14 initiatives in Maine, Massachusetts, and New Hampshire designed to improve care delivery and reduce costs within a variety of care delivery models. Recipients have used the quality grants to upgrade behavioral health and telehealth services and tighten up management of serious illnesses and drug costs. Over the past 17 years, Harvard Pilgrim has funded more than 270 initiatives totaling more than $19 million.
"We are supporting these practices in stepping up with innovative ideas for issues such as substance use management, medication adherence, and improving the experience for LGBTQ patients—all to improve patient care throughout our region," says Cahill.
Cahill says his most important duty is overseeing the profit and loss margins in his market. "That's really the defined role. Within that, I have responsibility and oversight for our Massachusetts sales department and our provider-contracting folks for Massachusetts—the people that really work and negotiate with the hospitals and doctors. I get involved when they are reviewing an analysis or identifying strategic opportunities, or dealing with an escalated issue."
How he got there
Cahill, who talks with the enthusiasm of a youth basketball coach, took a somewhat circuitous route to the present. He grew up in a suburb north of Boston and, after college, worked for a state senate legislative office while studying at Suffolk University Law School in Boston. After graduating in 2005, he clerked for Christopher J. Armstrong, chief justice of the Massachusetts Appeals Court, and then worked as the legal counsel for Richard Tisei, who was then the Republican minority leader in the Massachusetts State Senate.
"Obviously, health care has been and continues to be a huge public policy issue, a huge state budget issue," says Cahill. "So, I got some understanding of the workings of the broader health care world and, certainly, the public policy discussions around that."
Cahill started working for Harvard Pilgrim in 2011. "I worked in the government affairs and public policy areas as we implemented the Affordable Care Act," Cahill recalls. "A lot of the work revolved around how we had to take in all the rules and requirements as they came on." He deciphered their financial implications, such as those for the ACA risk-adjustment program.
Cahill also helped to create the structure by which Harvard Pilgrim oversees the Massachusetts ACA market, or the business side of the operation, as he calls it. Harvard Pilgrim was one of the first participants in the Massachusetts Health Connector, the forerunner of the ACA exchanges, in 2007. Since 2015, Harvard Pilgrim has participated in the exchanges in Maine and New Hampshire, and today it serves more than 50,000 individuals through the exchanges.
"Given that so much of that strategy determination is influenced by the impact of either state or federal requirements, or, you know, evolving rules and political landscape, it was a natural fit for me," he says.
Cahill sees Harvard Pilgrim's role as being a go-between for the member and provider communities and supporting the patient–doctor relationship by sharing meaningful patient data. "We help our providers understand which members they need to reach out to and ensure that they're compliant with their care plan," says Cahill.
Get ready, Cahill warns enrollees and employers. There will continue to be a lot of public policy change. He'll help decipher it.
Cahill likes talking about cooperating with providers—and can do so without irony. He is too young to recall the years where the insurer–doctor relationship could best be described as strained, and often likened to war.
"I haven't found it to be antagonistic, but I'm not working with docs on the street, right?" says Cahill. The conversations that he has had with providers "really focus on those places where we can collaborate and where we can best utilize the information that we have, and to augment or support the kind of work they're trying to do. So, I think it's positive."
Value-based contracts
Harvard Pilgrim has been a pioneer when it comes to value-based contracts with pharmaceutical companies. As part of a strategy led by Eric Schultz, president and CEO of the not-for-profit insurer, and Michael Sherman, MD, its chief medical officer, Harvard Pilgrim signed a value-based contract last year with Amgen that calibrates its payment for Enbrel (etanercept) to outcomes the drug produces. It made a similar deal with Eli Lilly for its osteoporosis drug, Forteo (teriparatide).
Two years ago, Harvard Pilgrim signed a contract with Amgen that gives the insurer a full rebate for Repatha (evolocumab), a PCSK9 inhibitor, if a Harvard Pilgrim beneficiary suffers a heart attack or stroke while on the drug.
Some of these new drugs have the potential to do wonderful things from a medical standpoint but may be expensive, notes Cahill. "What we're saying to the drug companies is, 'We want to work with you to ensure that the claims that you make as part of that process are actually achieved.' Because otherwise, there's a lot of expense being paid here that may not be supportable. But if you achieve the results, I think it's a win–win for everyone."
In a typical day, Cahill may have strategic business discussions with a cross-section of Harvard Pilgrim executives. They include marketers, actuaries, pricing experts, underwriters, and medical personnel. Cahill reports directly to Harvard Pilgrim's senior vice president of commercial business, Beth Roberts, who oversees the commercial markets in four states: Massachusetts, Maine, New Hampshire, and Connecticut.
During Cahill's usual 10-hour days, he also puts out a lot of fires. "I work on any issues arising from our provider partners that may rise to a level that needs intervention on my team's behalf, such as the introduction of a client-tailored product."
He's married to another attorney, Ann Hetherwick Cahill. "We joke that she does real law." She's a practicing lawyer at Burns & Levinson, a Boston-based firm. The couple has two children, a son Henry, who is 6, and a daughter Harper, who is 3. "We have busy, fun days."
Cahill works out of Harvard Pilgrim's offices in Wellesley, Mass., about 15 miles outside of Boston. He lives in Brookline.
Despite the challenges, Cahill says it's an exciting time to hold his job, "because someone is going to figure this out, and I think it's going to create a sustainable business model, and real improvement for how people access care."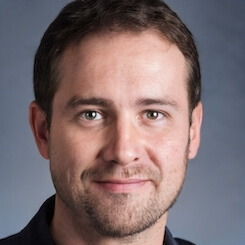 Paul Lendner ist ein praktizierender Experte im Bereich Gesundheit, Medizin und Fitness. Er schreibt bereits seit über 5 Jahren für das Managed Care Mag. Mit seinen Artikeln, die einen einzigartigen Expertenstatus nachweisen, liefert er unseren Lesern nicht nur Mehrwert, sondern auch Hilfestellung bei ihren Problemen.