The pros and cons of treating health care as a profit-making business got a lively airing in Boston May 16, 1996 when the Harvard School of Public Health's "Second Conference on Strategic Alliances in the Evolving Health Care Market" presented what was billed as a "Socratic panel." The moderator was Charles R. Nesson, J.D., a Harvard Law School professor of 30 years' standing whose knack for guiding lively discussions is well known to viewers of such Public Broadcasting Service series as "The Constitution: That Delicate Balance."
As one panelist mentioned, Boston was an interesting place for this conversation. With a large and eminent medical establishment consisting mostly of traditionally not-for-profit institutions, the metropolis of the only state carried in 1972 by liberal Presidential candidate George McGovern is in one sense a skeptical holdout against the wave of aggressive investment capitalism that has been sweeping the health care industry since the 1994 failure of the Clinton health plan. In another sense, though, managed care-heavy Boston is an innovative crucible of change, just like its dominant HMO, the not-for-profit but merger-minded Harvard Pilgrim Health Care. Both of these facets of Beantown's health care psychology could be discerned in the comments heard during the panel discussion.
With the permission of the Harvard School of Public Health–and asking due indulgence for the limitations of tape-recording technology in a room often buzzing with amateur comment–Managed Care is pleased to present selections from the discussion in the hope that they will shed light on the business of health care.
Panel participants, besides Nesson, included:
Michael J. Calhoun, J.D., senior associate, APM Inc., former chief of staff, U.S. Department of Health and Human Services;
Michael Collins, M.D., president and CEO, Caritas Christi Health Care System, and president, St. Elizabeth Medical Center;
Malik Hasan, M.D., P.C., chairman, president and CEO, Health Systems International, and chairman and CEO, Qual-Med Inc.;
Joel I. Klein, J.D., principal deputy assistant attorney general in the Department of Justice and former deputy counsel to President Clinton;
George D. Lundberg, M.D., editor, Journal of the American Medical Association and adjunct professor, Harvard School of Public Health;
David H. Mulligan, Massachusetts commissioner of public health;
Robert Restuccia, executive director of the consumer advocacy organization known as Health Care for All;
Carl M. Sapers, J.D., partner in the law firm of Hill & Barlow and public member, Massachusetts Board of Registration in Medicine;
Ronald B. Schram, J.D., partner in the law firm of Ropes & Gray, and
Steffie Woolhandler, M.D., M.P.H., director of inpatient services, Cambridge City Hospital; associate professor of Medicine, Harvard Medical School.
CALHOUN: I'm with the health care consulting firm of APM, which is the largest exclusively health care management consulting firm in the U.S. Prior to that I was with Lewin-VHI in their corporate policy-oriented health care consulting firm, and just prior to that I was chief of staff to [Secretary Louis] Sullivan in the Department of Health and Human Services during the Bush administration.
NESSON: So you were one of these guys who's in the government and comes out and becomes a consultant.
[Laughter.] …
HASAN: I do buy and sell, because that's my job. But at heart, and by training and by expertise, I'm a neurologist….
NESSON: [to Klein] So you're like "Mr. Health Care Antitrust."
KLEIN: I wouldn't put it that way, but that's not bad.
NESSON: And you're looking to get out and make some real money after you get finished doing this. …
[Laughter.]
KLEIN: … counsel people who might need good antitrust advice as they buy and sell. It seems to me that would be part of the American spirit….
LUNDBERG: I work for the AMA, I'm a member of the AMA, I don't speak for the AMA … I have editorial freedom; I speak for myself.
MULLIGAN: I'm kind of a "lifer" in the public sector, I would say. I started my life as a missionary in Bolivia for five years. My job is somewhat analogous to being a referee at a basketball game, and I've worked for both Democrats and Republicans. And I've had an AARP card for about nine years.
NESSON: "Referee at a basketball game." Why do you say that?
MULLIGAN: Many competing interests, and many times those interests don't converge. And a lot of times one needs regulatory approval to do one or another thing. And so it's a question of balancing interests and trying to make the fairest decision … I think the health needs of underserved people and uninsured people are most prominent in our society for not being too well served by some of the competitive pressures that are going on …
RESTUCCIA: I'm executive director of Health Care for All, which is a consumer advocacy organization in Massachusetts.
NESSON: So you're an advocate.
RESTUCCIA: I'm an advocate, and I also work with people who have fallen through the cracks of the health care system…
NESSON: Does that mean you have an utterly predictable point of view?
RESTUCCIA: I don't think so. I think I have a very intelligent, informed point of view.
[Laughter and applause.]
SAPERS: … I'm a public member of the Massachusetts Board of Registration in Medicine, and when I'm not doing that I'm a lawyer in downtown Boston.
NESSON: … the Board of Registration? That's the one that says, "You are a doctor."
SAPERS: …Yes, sir. …
NESSON: And it also says, "You are not a doctor."…
SCHRAM: Historically we advise health-care providers on their strategies and other issues. Our practice has largely revolved around the representation of nonprofit health-care providers. But we also represent some for-profit providers, and we recently represented MetroWest Medical Center in the first sale of a nonprofit, acute-care hospital in Massachusetts to Columbia/HCA.
NESSON: So you make deals …
WOOLHANDLER: … I'm the co-founder of a group called Physicians for a National Health Program that has 7,000 physician members that advocate a single-payer national health program for the United States. So in other words we are trying to put Mr. Hasan and some of the rest of you out of business.
HASAN: I'm shaking in my boots.
[Laughter.]
HASAN: … In a hard day, when the amusement is light, we take on some of your statements, and that amuses everyone.
WOOLHANDLER: You know, it's very easy to make fun–
HASAN: No, I wanted to thank you for that opportunity,
WOOLHANDLER: No, I want to answer that, because 85 percent of the American people think that health care is a right. We think that health care is a right. You do not buy and sell rights in the marketplace. And the fact that Dr. Hasan's company is making a lot of money does not mean that that's something that the American people will continue to support. And certainly not something the majority of American physicians support. And, while we have to admit the market's moving ahead very rapidly, it really doesn't have the support of the American people at this point, and I don't think it's sustainable long-term.
HASAN: Can I respond?
NESSON: No!
[Laughter.]
NESSON: You'll get your chance, I promise you. Let me put you into a mildly hypothetical situation. I say "mildly" because, although we call it the state of Idyllia, it will certainly seem recognizable to you as the place where we all live. In Idyllia, Mr. Hasan, there are a couple of nonprofit HMO organizations–Midstate Medical, for example, which is quite like Fallon or Capp. It's very attractive to patients. It's very attractive to patients; it's growing, they like it–an acquisition jewel, you might say, because, although it's growing, with your know-how and your capital, it would go through the roof. Would you be interested in purchasing?
HASAN: We're always interested in good assets, and assets could be in the form of a plan … That's part of our goals. And now that I have the microphone, let me respond to the–
[Laughter.]
HASAN: Our profit, net profit, is 3.2 percent. If anybody thinks that after all the hard work we do and the efficiency that we bring in that that is exceptionable, maybe … he could be shipped to China, because Russia is no longer communist. I am reminded by what I have just been told of the Khrushchev prediction that "We will bury you." Well, please keep on trying to bury us … What you are doing is antisocial. What you are saying is that the human capital here, the capitalistic system needs to be shelved, and need not be allowed to give the fruits that in health care have made this country so much different, that there should be socialism and a downward spiral of this particular part of the economy. …
NESSON: Okay. Stop.
WOOLHANDLER: Charles–
NESSON: I know he called you a lot of things, a communist … and everything else, and you've been generous.
[Laughter.]
NESSON: But you'll get your chance back. Carl Sapers, you pick up the Boston Globe, and … what you read is that he is in the process of purchasing Midstate Medical. Are you concerned about that?
SAPERS: Yes. I think the board is concerned and I'm personally concerned. My concern is that health care decisions are made by doctors. … If decisions about health care are in the hands of other people, we've failed in our mission.
NESSON: So, let me just get it straight. You, right from the get-go, are against his purchasing–
SAPERS: No. I just want to find out how it works. We'll find out who is making the health care decisions in this organization which is coming in to buy … in this jurisdiction. …
MULLIGAN: Let's look at the proprietary/nonprofit kind of issue; I think that's really what's being raised. I'm not sure, sometimes there's a fine line between some of the nonprofits and proprietaries. … If you look at the hospital world, our nonprofit hospitals have got a pretty good history of serving everyone who comes forward, and being attentive to those communities. I think we need to continue to do that. I'm afraid, with the loss of local control, we're going to lose that local commitment and a sense that everyone in the community is served. I would want to know, as Carl does, what they're going to do, how they're going to serve underserved people, and I want to make sure that we have regulatory teeth to not only get a commitment up front, but to make sure that we are able to continue to insist that they provide that level of care to everybody.
NESSON: So Steffie, tell us how we're going to work, from the doctor's point of view. You're a doctor in Midstate–
WOOLHANDLER: Well, what a for-profit alliance means is that money's going to be squeezed out of medical care and put into profits. So, typically, an HMO might take 25, 30 percent of the dollars that are supposed to go for health care and turn it into profit. A for-profit hospital like Columbia/HCA generates profits of about $100 per occupied bed/day. So for those of us who think the extra money in health care ought to go for care for the uninsured, and there are 40 million of them nationwide, we see these for-profit companies drawing that money out as profit, so that it's not actually there to provide care for the uninsured and the underinsured.
NESSON: Mr. Restuccia, do you have any feelings about Mr. Hasan coming in? …
RESTUCCIA: We're concerned first of all that these nonprofit institutions are community assets, they're set up for community benefits. What is going to happen to those assets? What's the value of that? We see, in many other states, for-profits come in and strip the community of those assets. … In California, Blue Cross of California decided to go for-profit. Originally, its assets, they claimed their assets were valued at $400 million. After tremendous activity from the community and from the state, the assets ended up being valued at $3 billion …
HASAN: What has that to do with the for-profits coming in? … What you are talking about is plunder. And there are systems in place which prevent such plunder from taking place. … In fact, when Health Net was converted, when all the do-gooders were sitting idly by and plunder was taking place … I was the one who went to court to prevent that from happening. All these do-gooders sat on the sidelines and did not lift a finger … The good fight has been fought by the so-called bad guys.
WOOLHANDLER: Yeah, I just think that's totally off the wall. … Let's take a step back. We all know about U.S. Healthcare being sold to Aetna for $9 billion. U.S. Healthcare only covered two million people, but they were sold for $9 billion. Now what could I do with $9 billion? I could cover all the uninsured children in the state of Massachusetts, I could cover their health care for the next 90 years. So we're talking about–where does this profit and capital come from? It comes out of people's health care dollars, that they thought were going to their care, and perhaps be transferred around to pay for other people's care. Money does come from somewhere.
HASAN: I've got news for you. That $9 billion came from the long-suffering shareholders of Aetna … It did not come from where you are. Please get your facts straight!
[Applause.]
SCHRAM: I have to say, if we're going to make this deal, we've got to tone down the rhetoric and really focus on what we're trying to accomplish. And … I would ask my client, if I were to represent him–
NESSON: You hope he's your client!
[Laughter.]
SCHRAM: Whatever. Whatever. If I were involved in the transaction on either side, you've got to make the deal, you've got to get people to back away from the rhetoric of for-profit or nonprofit and look at the particular community being served. Why are these nonprofit HMOs looking for an option? Why are they interested in Mr. Hasan's overture? They are growing, and they're well received by the local community, but they may not have sufficient capital. They may not be able to sustain their position in the community. And I would ask Mr. Hasan to really focus on that, what he can do to bring value to the community.
NESSON: Mr. Calhoun, you're advising Midstate Medical. Why do you want to deal with Mr. Hasan?
CALHOUN: The other dimension that hasn't been mentioned here, something that we find–we spend most of our business working with nonprofits. And what we find is that the market forces are increasingly difficult for them to meet. And the efficiencies that are necessary to be competitive somehow are less available to the nonprofits than they are to the for-profits. So the question is, not simply what is the downside to losing a not-for-profit community asset, the other issue is what happens if the not-for-profit community asset continues to operate on a level of inefficiency over time. The community is going to lose it anyway. And the opportunity that for-profit disciplines can bring is greater efficiency, and there is capital to be drawn out of the inefficiency that can be reinvested back into the community …
NESSON: I can see two situations. I can see a situation where an entity is in increasing financial difficulty and they really don't have a choice. Here comes a white knight. And I can see another situation where you've got an entity, like our Midstate Medical, that's alive–
CALHOUN: Today.
NESSON: –and growing.
CALHOUN: Right now.
NESSON: Maybe not growing very fast. But it's got life. Why would that entity want to deal with him?
CALHOUN: Because that entity may recognize that down the road the factors that they have to deal with currently are going to change. It's a changing marketplace environment. And while we may be successful today, the forces of managed care, of government regulation, in the near term, are going to change the equation. And if they are not able to organize themselves efficiently for competition five years down the road, they're going to be out of business anyway. So why not marry up with a group that has those kinds of marketing disciplines that enable it to take the fat out?
NESSON: Michael Collins, what do you think?
COLLINS: You know, I think Massachusetts is the perfect place for this discussion, because as I look at this complete set of issues it seems to me that we have a value judgment to make. As a completely–up till a few months ago–not-for-profit, acute-care health care system, we had what I would say is a unique partnership among the various entities: the medical schools, the HMOs, those who purchase care, and the acute-care hospital industry. I think the discipline that Michael speaks about is something that every one of our institutions is in the process of doing –and that is, to get more efficient and to put reasonable business practices in, to … respond to the declining revenue bases that we'll see into the future. However, the value judgment that we have to make is this. You know, my reason for going into medicine, and my reason now for going in to work every day, is that I am concerned about the patient. And I believe that each patient has human dignity. And what I want– the difference I hope that our institutions have, as not-for-profit institutions, from those which are publicly traded, investor-owned corporations, is that first and foremost each day, the actions of our physicians and our board and our institutions is to care for the patients in our facilities. Now, the dynamic is very different. Our institutions have at their leadership community leaders. They're the people that, see, this would not be an unrepresentative board–perhaps with one exception–from the not-for-profit institution here in Massachusetts.
NESSON: Which exception do you have in mind?
COLLINS: If I need to tell you that, you need to go out there.
NESSON: You don't have any real businessmen on your board?
COLLINS: Oh, no–
[Laughter.]
NESSON: You just have people that love patients and do community service?
COLLINS: I thought we were going to have a discussion between profit and not-for-profit institutions, not between charitable and noncharitable kinds. Now … Obviously we have very successful businesspersons on our board. And they're on our board because they care about their community, and they care about the quality of care that is provided in our institutions. And at the end of the day that's what concerns them most. They care about the people who are going to serve in our institution, and each one of them, one day, could be a patient in our institution. Now, they have directed us, and we have certainly informed them, that we need to have very efficient business practices in the running of our organizations. And we're in the process of putting all the kinds of efficiencies in place, etc., that I'm sure Dr. Hasan's companies do. However, at the end of the day, the profits we generate–because I won't say that we don't generate profits; in fact we do–but the profits we generate are put back into our community to serve our community. And when I go to sleep at night I have a good sleep knowing that our decisions, and our board meetings, the staff of our institutions, the partners in our medical center, the students that we are teaching, are in an environment which is first and foremost concerned about our patients and our communities.
NESSON: So, let me just see if I understand. You don't really see any difference between the two approaches in terms of the efficiency running the organizations. Your whole point is just a matter of where the profits go.
COLLINS: It's not so much where the profits go as it is the mindset that I'm about our community and the patients we serve…. My fiduciary responsibility is high-quality care to the patients, not to return equity to my investors.
---
Our most popular topics on Managedcaremag.com
---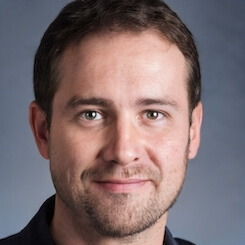 Paul Lendner ist ein praktizierender Experte im Bereich Gesundheit, Medizin und Fitness. Er schreibt bereits seit über 5 Jahren für das Managed Care Mag. Mit seinen Artikeln, die einen einzigartigen Expertenstatus nachweisen, liefert er unseren Lesern nicht nur Mehrwert, sondern auch Hilfestellung bei ihren Problemen.