A Barber, a Professor, and an Entrepreneur Walk into a Room: Health Equity and the Strength of Weak Ties
Rachel Chong with Freddie Spry at the Lincoln Cottage Assembly.
Perhaps, like me, you get invitations to meetings where you're not convinced it will be time well spent, but you acquiesce nevertheless. Minnesota nice is my excuse.
When a health futurist comes calling, the temptation to invent excuses looms larger still. And as much as I'm hard pressed to say no to collaborating on health equity, it was when Jonathan Peck, the president of the Institute for Alternative Futures, said, "you'll be sitting where Abe Lincoln wrote the Emancipation Proclamation," that I decided to book the flight to Washington.
With the support of the Robert Wood Johnson Foundation, 35 of us visited the Lincoln Cottage, a hilltop retreat overlooking D.C. where Lincoln found solace, but also connected more closely with people, during the Civil War. Our group was there to inaugurate a national dialogue on health equity. Later dubbed the "Lincoln Cottage Assembly," we were welcomed by Peck at the staircase Lincoln climbed every day to write about the most vexing issue of his time.
Up we went, gripping the same handrail Abe did, to discuss equality. Peck is intent on reaching 5 million Americans by seeding conversations on equality, freedom, and justice and will be leading a bigger vision dialogue on health equity and prosperity at the University of Maryland on August 4 and 5. And you're invited! Given that you may experience what I did, unexpected as it was, I think you, too, should overcome any reluctance and attend.
First, here's what I expected. This first convening meeting would be seeded with inexcusably smart, unusually diverse, superbly passionate advocates for equity. Check. (I snuck into the tent due to the last attribute only.) The meeting would be shrewdly and purposefully facilitated. Check. There would be proclamations made, priorities set, and promises to keep.
Check, check, and check.
Here's what I didn't see coming: A big dose of health equity inspiration by the name of Federico Spry, a barber who cuts hair for about 50 people a day in Hyattsville, Maryland.
My left elbow rubbed Freddie Spry's much of the day. To my right was a corporate medical director and researcher I've followed for much of my career. Beside Freddie was Dr. Stephen Thomas, the professor who dreamt up the idea that if inequity in colorectal cancer resides in the black community, then why not train hair stylists as health educators? The impact of such an approach is easily understood when you get to experience the amity and respect a barber can evoke as I did throughout the day.
You can see how Dr. Thomas' Center for Health Equity at the University of Maryland co-mingles with Spry's "The SHOP" on YouTube. As one of the barbers in the video says, "You say stuff in here you may not say somewhere else." Such a place-based campaign is a hopeful approach to be sure, but certainly not the first time a School of Public Health has landed a clever peer-led research and demonstration project in the heart of a community. It was who was sitting at the table across from us who made me feel confident that this Cottage Assembly and our lofty pursuit of justice were poised to transcend proclamations.
The Strength of Weak Ties
Rachel Chong isn't someone you would strap too much weight on at first glance but her small frame belies a mighty inner flame. That the organization she founded is called "Catchafire," betrays aspirations that may well be as much about destroying complacency in the private sector as about her organization's stated goal of matching talented professionals to worthy causes. But it was Chong's business bona fides that stoked my optimism when I watched her and Freddie interact. Fast Company named Chong among their "100 Most Creative People in Business;" she's a "NYC Venture Fellow," a "Tribeca Disruptive Innovation Award" winner and was a "Young Global Leader" at the World Economic Forum. That's just to name a few accolades that peg her as a business leader to watch.
I've written about the "Strength of Weak Ties" in the past, and I'm guessing RWJF, with their propensity to invest in public/private partnerships, has studied sociologist Mark Granovetter's idea that some populations are more likely to be reached via weak social ties than strong. Professor Thomas is the first to concede that his community-based approach can attract grant funding where he has strong ties, but that scalability and sustainability are a reach. But for Chong, scalability is the fire she pours fuel over every day.
What happens when a barber, a professor and an entrepreneur walk into a room? I'm thinking a real chance at equity will walk out. One of the commitments I made before leaving The Cottage Assembly was to write vision and commitment statements dedicated to making progress toward health equity and prosperity.
My vision is that all workplaces will positively influence the well-being of their communities.
My commitment is to do what I can to get more Chongs and Sprys in the room together.
What's yours?
Dr. Paul Terry is president and CEO of the Health Enhancement Research Organization (HERO), a national think tank dedicated to positively influencing the health and well-being of employees, families, and communities.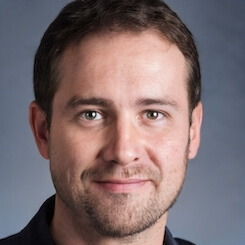 Paul Lendner ist ein praktizierender Experte im Bereich Gesundheit, Medizin und Fitness. Er schreibt bereits seit über 5 Jahren für das Managed Care Mag. Mit seinen Artikeln, die einen einzigartigen Expertenstatus nachweisen, liefert er unseren Lesern nicht nur Mehrwert, sondern auch Hilfestellung bei ihren Problemen.