MANAGED CARE 

March

 

2005

. ©MediMedia USA
TOMORROW'S MEDICINE
Age-related macular degeneration (AMD) is a chronic progressive disease of the macula that causes central loss of vision. This disease starts with a central blurred or blank spot in the field of vision or simply blurred vision. Although the disorder usually starts in one eye, it has a high propensity to affect the second eye. AMD is the leading cause of severe vision loss and blindness in the United States in patients over 50 years of age. The disease is characterized by two forms: the wet and dry form. Although more patients experience the dry form, it is the wet form of AMD that accounts for the more severe vision loss.
Until recently the only treatment available for patients with wet AMD was photodynamic therapy and thermal laser treatment. Both of these therapies have deficiencies and are not indicated for all types of wet AMD.
Recently, the Food and Drug Administration approved Macugen (pegaptanib sodium injection) for the treatment of the wet form of macular degeneration. This drug was developed by Eyetech Pharmaceuticals in partnership with Pfizer Pharmaceuticals. Interestingly, this is the first antiangiogenic treatment approved for ophthalmology, but it follows a series of approvals for antineogenesis compounds, both biologic and small molecule, for cancer indications. The specific cause of blindness in AMD is addressed using the antiangiogenesis approach. The product label for Macugen is broad, much broader than any other treatment available, and can be used for all types of wet AMD.
Aptamers
This drug is different from other existing antiangiogenesis compounds currently approved. It is made up of a chain of nucleic acids called an aptamer, which binds to the specific pathologic vascular endothelial growth factor (VEGF 165) that causes the excessive growth of the blood vessels characteristic of wet AMD. Aptamers are not antibodies, but act like them; they are single-strand DNA or RNA that bind to specific target molecules. They can discriminate targets based upon subtle structural differences and often form bonds that are stronger than the typical antibody-antigen bond. They also are very distinct from antibodies, as they are smaller molecules (about 1/15 the molecular weight of antibodies), they are very stable, and they can be microencapsulized for sustained release. They can also be "tuned" to specific binding sites more easily than antibodies and they have demonstrated no evidence of immunogenicity.
Delivery method
Macugen is injected into the vitreous of the eye using a scleral approach. Once in the vitreous, it is absorbed into the retina and binds with VEGF 165, preventing the VEGF 165 from stimulating new growth of friable, or leaky, blood vessels. These fragile blood vessels are called choroidal neovascularizations. As they leak serum and blood, they damage the macula, resulting in the loss of central vision. This leakage occurs within a short period of time after these blood vessels start to form. It is important to understand that this form of VEGF is not a normal product in a healthy eye.
Macugen needs to be injected every six weeks — not an appealing thought — and patient compliance could be an issue. But the company has two years of data that demonstrate that the procedure is well tolerated with 92 percent of the patients completing the trials. It is unknown at this time how long the therapy will need to be continued. There is a hope that the disease may not need therapy for life, but this is theoretical at this time.
The drug was approved based upon two pivotal, randomized, double-masked clinical trials involving nearly 1,200 people. The trials' endpoint was to demonstrate prevention of visual loss of three lines on a standard vision chart after 54 weeks of treatment. The results of the trials demonstrated that 70 percent of those patients receiving 0.3 mg of Macugen every 6 weeks lost less than three lines of vision on the eye chart, compared to 55 percent of control patients. Two-year data showed continued benefit.
Managed care implications
Since age-related macular degeneration develops late in life, 75 percent of all patients with wet AMD are eligible for Medicare. Most commercial plans, then, will have little exposure to this new drug. Medicare has already approved payment for this product. The injection is an office procedure using a local anesthetic. As an office procedure it is billed on the HCFA 1500 form. It is coded using the nonspecific HCPCS code J 3490, along with a CPT code for the intra-vitreous injection.
The manufacturer is training office staff on the need to provide complete information in box 19 on the HCFA 1500 form to give more complete data to payers. Medicare's approvable amount is $1,054, with the wholesale acquisition price of $995.
Thus, we now have a form of therapy that will cost about $9,000 per year plus physician fees for the rest of the patient's life. The drug has gained the attention of ophthalmologists, as it is the only therapy available for many people with this devastating progressive disease.
Two forms
There are two forms of AMD, wet and dry. The dry form is the most common form, accounting for about 90 percent of all AMD cases. But the dry form of AMD only accounts for 10 percent of the severe vision loss associated with the disorder. Over time, dry AMD may develop into a "wet" form.
The wet form accounts for about 10 percent of the total cases of AMD, but is responsible for the other 90 percent of patients who experience vision loss.
It is estimated that up to 15 million Americans suffer from some form of AMD, with an estimated 1.6 million people with the wet form. There are an estimated 200,000 new cases of wet AMD per year in the United States.
Affecting the fovea
The abnormal growth of blood vessels that characterizes the wet forms of AMD can occur in the area of the fovea — the area of the eye that is responsible for the ability to see fine detail. There are three types of subfoveal wet AMD based on the pattern of the abnormal blood vessels. The three types are:
Predominantly classic: accounts for about 25 percent of all subfoveal types and is the most aggressive disease, in terms of speed, that results in blindness. This form can be seen by the ophthalmologist: it has sharp blood vessels and distinct edges.
Minimally classic: accounts for 35 percent of subfoveal types and is a bit less rapid in its development than predominantly classic.
Occult: accounts for 40 percent of subfoveal types and results in blood vessels that are diffuse and poorly demarcated.
The potential for antiangiogenesis treatments is promising and their use in a variety of diseases is encouraging. With the approval of Macugen, a new approach to pharmacologic treatment of disease — aptamers — is on the horizon. Both of these technologic advances are likely to fill many more columns in Tomorrow's Medicine!
---
Our most popular topics on Managedcaremag.com
---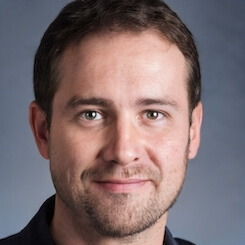 Paul Lendner ist ein praktizierender Experte im Bereich Gesundheit, Medizin und Fitness. Er schreibt bereits seit über 5 Jahren für das Managed Care Mag. Mit seinen Artikeln, die einen einzigartigen Expertenstatus nachweisen, liefert er unseren Lesern nicht nur Mehrwert, sondern auch Hilfestellung bei ihren Problemen.