BlueCross BlueShield of South Carolina anticipated the problem years ago and invites you to join in what could be a solution
Even a slow-moving disaster that everybody — and we mean everybody — sees coming garners headlines. Heaven forbid that the astronomers discover the big one: the huge asteroid on a collision course with earth that's guaranteed to cause planetary extinction. One can just picture the headlines: "90 Days and Counting," "Churches Overflowing," and "Yep, It's Still There."
Now that we've got perspective, let's talk about another problem. It's slow-moving, everybody knows it's coming, and it too garners headlines. That's the shortage of health IT workers, as outlined in a PwC (formerly PriceWaterhouse Coopers) report released last month.
"The U.S. government anticipates a shortage of about 50,000 qualified HIT workers between 2010 and 2015," says the study, "Solving the Talent Equation for Health IT" (http://tinyurl.com/PwC-IT-study). "And there is evidence to suggest the reality may be even greater."
PwC's Health Research Institute commissioned a nationwide survey of health care executives in late 2012 of 345 health care organizations, including health insurers, hospitals and health systems, and pharmaceutical and life sciences companies.
Health care executives see IT workforce challenges ahead
Insurers meanwhile are working out how they fit in a health care system that is becoming more provider-centric, what with the Affordable Care Act's emphasis on accountable care organizations (ACOs) and medical homes. A PwC study says that "many insurers plan to offer providers technologies that support care management, health and wellness, and ACOs."
What insurers will offer providers
Source: "Solving the Talent Equation for Health IT," PwC Health Research Institute, March 2013
"Across the health sector, senior executives describe a challenging paradox," the study says. "Just as they are preparing to make major increases in technology investments they are encountering shortages in key personnel and are concerned about the industry's ability to absorb change and integrate new workflows with HIT."
Working on the problem
There is hope. People are working on this problem, people such as Lonnie Emard. He is the vice president for information systems at BlueCross BlueShield of South Carolina (BCBSSC). He is also the executive director of IT-ology, a not-for-profit organization dedicated to increasing the number and proficiency of IT workers in the United States. The staffing situation will only get worse, Emard warns.
"I came to Blue Cross in 2002," recalls Emard. "We had roughly about 1,000 IT employees at the time. In about four and a half years, we doubled that number. That four and a half year span was pretty painful.
"That's because the media were saying, 'Oh, don't go into IT,'" says Emard. "Those jobs are going offshore."
The resultant shortage needed to be addressed as an epidemic. "No one company and no one university is going to solve this problem by itself," says Emard. "This includes the Microsofts of the world. The problem is just too pervasive and part of the problem is the message.
"There are not enough young people, parents, faculty and administrators — and in fact I'll go so far as to say legislators — who really understand that when we're talking about IT we're not only talking about the industry of IT but rather everyone in the profession of IT," says Emard.
Emard helped form IT-ology in 2009. The original members were BCBSSC, IBM, and the University of South Carolina. "Today we have more than 250 businesses and 80 universities and technical colleges actively involved, and that number is growing every day," says Emard. "Our big problem has been the supply/demand imbalance. In 2009, there had been declining enrollment in colleges and universities for eight consecutive years at that time following Y2K."
Though Emard felt that Blue Cross was successful in dealing with the IT worker shortage for itself, that was not enough. "You have winners and losers," says Emard. "If we were finding talent, that meant other people weren't. "
There are about seven million IT workers in the country, Emard says, and they include many at the forefront of companies one does not usually associate with IT. "You hear Palmetto Health, you think hospitals or you think health care. You hear TD Bank, you think financial and if hear Walmart you think retail. Yet the people who are making a difference in these companies' ability to survive and thrive in the digital revolution or the 21st century are the IT professionals."
One of the ways IT-ology promotes the profession is to try to change the perception it has in the K-12 and higher education systems, says Emard. "Shame on all of us if these kids who are very bright go through our educational system, get a degree in something and can't get a job."
Should a health plan hire IT workers and teach them health care, or vice versa? The question has already been answered, says Emard. "You just can't get around it."
Right now, insurers and others are training employees to become IT proficient.
"I've been told by several state hospital associations that 25 percent of nurses today don't even do nursing care," says Emard. "They're health IT specialists. They're the only ones who know the diagnostics and the processes and the data and the systems. They are relied on for answers."
Collaboration is key
The belief system of IT-ology for all of the partners is: Don't go it alone, collaborate, says Emard. "The best thing we ever did at BlueCross was to create levers that all of us could pull to advance IT talent from the classroom to the boardroom. We're not talking about giving away trade secrets either. We're talking about a preparation of a workforce."
Emard jokes that he's been accused of going into schools and twisting arms to get kids to go into IT, but really it's a matter of just giving them good information to help them make wise decisions. "If they want to be a welder or a nurse or an engineer or an artist, that's OK. But hopefully they won't avoid IT because they really didn't understand what they would actually do and how much they get paid. They're needed, and there is going to be a job waiting for them at the end of the pipeline. And the results of this are phenomenal. Our 80 universities have in the last year seen an increase of upwards of 30 percent enrollment."
---
Our most popular topics on Managedcaremag.com
---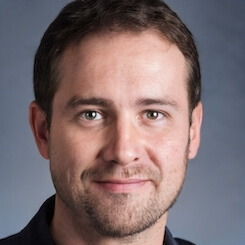 Paul Lendner ist ein praktizierender Experte im Bereich Gesundheit, Medizin und Fitness. Er schreibt bereits seit über 5 Jahren für das Managed Care Mag. Mit seinen Artikeln, die einen einzigartigen Expertenstatus nachweisen, liefert er unseren Lesern nicht nur Mehrwert, sondern auch Hilfestellung bei ihren Problemen.