When it's time for a session, your therapist's face is on your phone or computer instead of in the room. Telemental health doesn't mean the end of in-person sessions, but it's increasingly part of the therapy mix.
Robert Chalfant, MD, of Colorado West Mental Health, says a large part of his practice involves video sessions conducted over the internet. Telemental health means less driving and fewer canceled appointments because of bad weather.
When Chris Gethard's psychotherapist moved to Mexico three years ago, the comedian faced a choice: Find a new therapist or start doing sessions by video. Choosing the latter, he became part of the burgeoning world of telehealth, which is transforming the way care is delivered for mental and emotional ills.
Gethard regularly packed a small Off-Broadway theater last fall with Career Suicide, an autobiographical monologue about "suicide, depression, alcoholism, and all the other funniest parts of life." But there's one thing even Gethard doesn't find funny: the millions of Americans suffering from mental illness who don't get help. The National Institute for Mental Health says that in a given year, almost a fifth of American adults have diagnosable mental disorders and, by one estimate, a little more than half are treated. That the others threaten to send the U.S. health care system to the poorhouse because of subsequent hospitalizations, ER visits, poor physical health maintenance, and substance abuse with its associated domestic violence, home accidents, and traffic fatalities is, of course, only part of the tragedy.
Can some of these people be reached with assessment, support, and even therapy itself delivered by video and other digital means? The telehealth industry, approaching the $1 billion mark in annual investment, seems to think so. Last year, Mercer's annual survey of large employers found that 59% offered telemedicine services, almost double the percentage that did in 2015. Major telehealth companies like Teladoc, MDHealth, and American Well are ratcheting up their mental health offerings, connecting patients with psychiatrists, psychologists, and social workers via their smartphones, tablets, or home computers.
This is a return to telehealth's roots. In 1955, Cecil Wittson, MD, of the Nebraska Psychiatric Institute worked with Bell Telephone to create an interactive closed-circuit television system with live transmissions of therapy sessions. It was just for training purposes, though. By the late 1960s, Massachusetts General Hospital was providing "telepsychiatry" services to airport employees through a bidirectional hookup with Logan International Airport.
That's long before the internet, smartphones, tablets, and the petabytes of digital information scurrying around the world brought us the instant connectivity of today. Still, the evidence supporting telehealth is patchy. Rigorous studies "that show improvements in care or health have been few and in many cases have failed to show benefit," wrote Eric Topol, MD, and E. Ray Dorsey, MD, in a review article published in the New England Journal of Medicine last July—and they're hardly tech skeptics. But Peter M. Yellowlees, MD, a professor of clinical psychiatry at the University of California–Davis and president-elect of the American Telemedicine Association, says that what many are now calling "telemental health" has more high-quality randomized controlled trials with positive results supporting it than any other application of telehealth.
Some of these studies simply show that doing X is better than not doing it, which doesn't tell much about net cost-effectiveness or reaching the untreated. But others show telemental health's power to reduce expensive hospitalization, either in the psych ward itself or for other conditions triggered or exacerbated by emotional woes.
Experience with veterans
The VA operates without the need of state licensure and has been using telehealth for decades, says Peter M. Yellowlees, MD, of the American Telemedicine Association.
Yellowlees points first to the Veterans Administration, which without the headaches of state licensure and other impediments, has been using telehealth for nearly a quarter century. A 2012 study of almost 100,000 patients who came to the VA from 2006 through 2010 showed a 24.2% drop in psychiatric hospitalizations among those who enrolled in a telemental health program. Total inpatient days declined by a similar percentage.
Veterans with PTSD who are reluctant to leave their homes often prefer video to in-person psychotherapy, says Yellowlees, and, in many cases, so do child and adolescent patients. "Say you're a female who's been raped, and you're assigned a male psychiatrist," he adds, noting that such a patient may feel less vulnerable with a video connection than an in-person session. Add to these instances of preference the many people in remote rural areas and correctional institutions, where regular visits by mental health clinicians may not be practical—particularly with an estimated national shortage of 10,000–20,000 psychiatrists, and the current average age of these doctors a close-to-retirement 56. In 2007, according to the Substance Abuse and Mental Health Services Administration, 55% of U.S. counties lacked any mental health professionals, and there's little reason to suppose that has changed much and even less to think it has improved. In all of these cases and more, the point isn't that telemental health is perfect, but simply that it brings care to people who wouldn't otherwise be reached.
"It's about access," says Yellowlees. "We know that if we leave people with no access to care, they ultimately get sicker and need more expensive care." But he adds that in some cases, therapy by video or a hybrid of that approach and in-person sessions is actually more effective than in-person treatment.
Substantial empirical evidence supports the use of telemental health, he and his coauthors concluded in a 2016 review, also noting that "positive trends are shown in terms of cost savings." Applying certain filters to a comprehensive literature search from 2005 through February 2015 (methodology had to be rigorous, usually randomized controlled trials, and sample sizes of at least 150), the authors identified 59 studies. They were a bouillabaisse: the patient groups varied and sometimes the telemental health employed just the phone or the internet—or both—rather than video. All of the studies investigating the effects of telemental health on depressive symptoms reported positive outcomes, and improvement of symptoms was found in patients with comorbidities such as diabetes, COPD, and cardiovascular illness.
The authors found five studies that looked at cost head-on, often with less-than-mind-blowing results. A 588-person study of a behavioral intervention with hypertension patients was called cost-effective despite "no apparent lowering of health care utilization and costs during two years of follow-up." A stress-reduction app for the military, it was determined, would start to save money at the 1,600-user mark. And in one 2010 U.S. study, 278 telemental health consultations given to 106 rural nursing-home residents saved $3,700 in gasoline costs by avoiding trips to the nursing homes—but that slipped to $925 if one figured they'd have covered four nursing homes per trip. More vital than those saved nickels, the review authors surmised, was that telemental health promised to "fill a gap" in nursing homes "to provide essential care that would not otherwise be available." There it is again—access.
Yellowlees helped run a 2012 study investigating "asynchronous" telepsychiatry, in which a trained interviewer talked with the patient and then filed a report that a psychiatrist assessed at his or her convenience. The approach was compared with in-person psychiatry sessions and remote communication with a psychiatrist. Asynchronous telepsychiatry became the most cost-effective choice after 249 consultations, the study found, and the researchers concluded that it could allow "more affordable health care to be delivered to a larger population of patients."
Other recent research identifying possible cost savings from telemental health has been conducted everywhere from rural Kansas to northern Norway. Volume is often the critical piece in making savings significant, and that could be a steep climb for programs just getting off the ground. An analysis of rural telepsychiatry notes, for example, that after a program's launch, planners may find that "recruiting additional providers to serve rural areas, full or part-time, puts them in competition with existing organizational psychiatry resources." Without a commitment to change from the top, the report warns, new telepsychiatry programs are "doomed to limited success at best."
Not just for blizzards
The biggest hurdle facing a system seeking to embrace telemental health, says Yellowlees, isn't winning patients over; "it's getting providers to take up new approaches to work. It's not surprising when you think about it. We all believe we're doing a good job in the traditional way, and it worries us to change." Often, he says, there's a generational divide, with younger professionals (like younger patients) adapting easily to the new treatment methods while older ones remain dubious.
One area where more research is needed, says Yellowlees, is on programs that mix telemental health with traditional treatment, because in many instances a combination of the two will work better than a steady diet of either. Indeed, while video or phone therapy sessions may first be tried because a bridge is out or a blizzard has blocked the road to the therapist's office, the use of telemental health as an alternative or a backup needn't be saved for such emergencies. And the technology's flexibility opens the door to customizing the therapy clock. For some patients or situations, more frequent 20-minute check-ins or another schedule variation may be more effective than standard 45-minute sessions.
"It can take 45 minutes to travel five miles" in highly populated areas, says psychologist Mary Alvord, PhD. Telehealth isn't just for rural, fairly isolated counties.
The patients of psychologist Mary Alvord, PhD, who runs a 19-clinician psychology practice based in the Maryland cities of Rockville and Silver Spring, aren't in a remote area; instead, they battle the clogged traffic of greater Washington. "It can take 45 minutes to travel five miles," she says. Here, videoconferencing can help. Alvord's practice provides cognitive behavioral therapy and other interventions, often for adolescents, and she recalls a recent critical meeting about a teen's progress that both parents were able to attend—one in person; the other, who works in Baltimore, by video. That parent was saved from having to leave work for half a day.
Like Yellowlees, Alvord is an exception, a baby boomer who thrives on tech. "I've even had trouble convincing some of my younger clinicians to embrace it," she notes. An adjunct associate professor of psychiatry and behavioral sciences at George Washington University School of Medicine and Health Sciences, Alvord is a past president of the American Psychological Association's Division Society for Media Psychology and Technology. She first embraced videoconferencing in 2005 as a way to hold staff meetings without shuttling between two offices to say everything twice. Soon it became a tool for supervising psychologists: She wrote her state's board of examiners asking to use it that way and was given permission. And while visiting the VA in Washington to give a talk on the ethics of media interviews, she asked to see how the agency ran its telemental health program.
She's pleased that Maryland now permits her psychologists to use telemental health—and that Arizona law allows 20 sessions a year without licensure in that state, enabling the practice to serve the snowbird patients who winter there. Licensure and coverage issues remain a challenge with the use of tech, but the picture is brightening. Twenty-nine states now have parity laws requiring insurers to cover telehealth services at the same level as in-person care, although Medicare still reimburses for telehealth only outside metropolitan areas or in "health professional shortage areas."
Like many boosters, Alvord is also a stickler. "You need a HIPAA-secure video, which means you have to have a business associate agreement with the vendor," she explains. Skype won't cut it. (Such agreements apply also to IT and any HIPAA-protected confidential patient information, she explains. Vendors such as Webex and VSee provide secure video platforms and cost providers from $15 to $150 monthly—there's no charge to patients for the hookup.) You need an informed consent agreement that in advance identifies someone—besides 911—to contact in case of an emergency. And a therapist has to be tech-savvy enough to help someone get back online in the event of a glitch. Alvord gives her staff a detailed checklist for providing telemental health services safely, ethically, and in compliance with regulations.
As for comedian Gethard, he's happy with his long-distance therapy—and in a man who mines his miseries for a living, happy is hard to argue with. If he were choosing a new therapist he wouldn't necessarily pick one with an all-video business plan for fear that might signal an emphasis on quantity over quality. But if telemental health has a complication, he says, it's his own temptation, when his computer "dings" during a session, to break away for a second to see who has emailed him. "I have to effectively pretend the rest of the internet doesn't exist," he explains.
"I get that some people resist technology," says the comedian. "But to me, this is another option for those who need help to find it. That can't be a bad thing."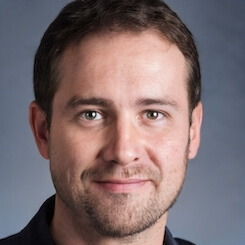 Paul Lendner ist ein praktizierender Experte im Bereich Gesundheit, Medizin und Fitness. Er schreibt bereits seit über 5 Jahren für das Managed Care Mag. Mit seinen Artikeln, die einen einzigartigen Expertenstatus nachweisen, liefert er unseren Lesern nicht nur Mehrwert, sondern auch Hilfestellung bei ihren Problemen.